Tomtor day tour to the old gold mine and to the hot springs
14/01/2007 - 15/01/2007

Tomtor is a small town situated inside the "Pole of the Cold", the world's coldest inhabited place, where the January's average temperature is -50 degrees centigrades. I visit the old gold mine where nice ice sculptures are kept, and an hot spring where most water never freezes.
The small hotel where I've spent the night in Tomtor. Today the temperature is -50 deg. centigrades.
Photos of Tomtor. A stream that never freezes, because of hot springs. The vapour, coming out continuously, freezes instantly over the trees all around, creating very bizzarre shapes.
A frozen tree seen from below.
This is a gold mine not used anymore. The ice crystals on the wall may requires months or years to grow, before falling down when they become too heavy.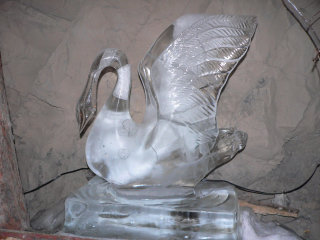 Photos of ice sculputers kept inside the mine. As the temperature here is about -10 degrees year round, no maintenance is required. In fact, they were built about 5 years ago.
A leaking water pipe.
° ° °
° ° °
Contact | About us | Privacy and use of cookies
This site is copyright protected, please contact the author before using any part.