Novosibirsk day tour
08/01/2007 - 09/01/2007

Novosibirsk is the Russia's third biggest city and its geographical center, as well as the capital of Siberia. I hike in Novosibirsk during winter with a temperature ranging from -10 to -18 deg.centigrades, visiting the Opera theatre (the world's biggest theatre), the Transiberian railway station and the downtown where ice sculptors were at work.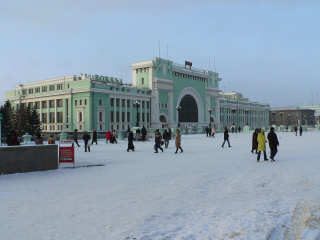 The Glavny railway station in central Novosibirsk is the Siberia's largest and most important train station on Transiberian railway, and one of the Russia's biggest.
The Opera theatre.
° ° °
° ° °
Contact | About us | Privacy and use of cookies
This site is copyright protected, please contact the author before using any part.