SOCOTRA TRIP REVIEW AND PHOTOS OF SOCOTRA
Excursions in Socotra near the capital Hadibo to Deleisha beach and Dihamri
<<-- GO
I take advantage of the half day after arriving in Socotra, to visit the beautiful Deleisha beach not far from the capital of Socotra Hadibo. A further day trip a few days later leads me to Dihamri where is possible to snorkel among the coral or enjoy the beautiful landscape.
Day tour in Socotra among Dracena cinnabari and wonderful landscapes
<<-- GO
The Dracena cinnabari is a plant endemic to Socotra and except in some botanical garden, it can't be found in any other part of the world. Symbol of Socotra, is also called "dragon blood tree" for the color of its resin. I visit the Firmin forest and the Dixam plateau where there are thousands of Dracena cinnabari.
Excursions to Wadi Druher canyon in the natural pools and to Oamak beach
<<-- GO
The bottom of the Wadi Druher canyon contains a beautiful natural swimming pool of emerald green waters, while the walls of the canyon seen many Adenium obesum and cucumber trees, which make it a unique place. The tour ends on Aomak beach between its low dunes.
Trekking to Socotra on Hagger mountains discovering many endemic plants
<<-- GO
A trek to Socotra near Mount Skand along the chain of Hagger mountains, allows you to discover the home of many endemic plants of Socotra. Here you can also meet shepherds who live in remote mountain huts of stone, in very harsh conditions.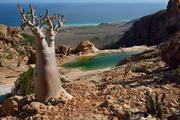 Trekking to Homhil in Socotra among Adenium obesum and cucumber trees
<<-- GO
Homhil in Socotra is very interesting from a botanical point of view, as it hosts thousands of Adenium obesum socotranum, many Dracena cinnabari, some cucumber trees, as well as numerous rare succulent plants endemic to Socotra.
Trek to Hoq caves in Socotra and relax on deserted beaches of Arabian Sea
<<-- GO
Hoq caves in Socotra are within a few hours of easy trekking and are very interesting because you can enjoy them "as they are", without any artificial lights installed inside and no other tourists. After the long walk, what could be better than a swim along a deserted beach, such as Ras Ersel or Arher?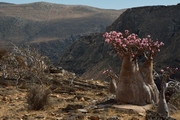 Excursion to Momi in Socotra and Wadi Kalysan canyon with natural pools
<<-- GO
The Momi plateau is home to a large population of Adenium obesum and other endemic plants of Socotra (including succulent plants) that can be found during a pleasant trek to the canyon below, which contains also many natural pools where you can relax and have a bath.
Excursions to Socotra among the beautiful beaches of the southern shores
<<-- GO
The south coast of Socotra, among the Indian Ocean, sees a number of huge beaches where there are no other tourists, dominated by breathtaking landscapes that include big sand dunes formed by strong summer monsoon winds, and rugged coast line.
The most beautiful beach in the world? It is Qalansiya in Socotra, of course!
<<-- GO
Qalansiya beach in Socotra, with the adjoining Detwah lagoon, is probably one of the most beautiful beaches in the world that I had a chance to visit during my travels. Furthermore, an half day trip by boat allows you to see the dolphins and visit discover the other beautiful beach of Shouab.
How is the life as tourist in Socotra? How is a typical day on the island?
<<-- GO
After seeing so many photos of Socotra, perhaps you are wondering about how a typical day is during a tour to Socotra: where you eat? Where you sleep and how you move? On this page you will find information about daily life during a trip to Socotra.
Tour to Sana'a one of the world's most beautiful and ancient city
<<-- GO
By properly optimizing the sequence of flights to get to Socotra (or coming back to your home) you can take a day tour to Sana'a between the connecting flights. Sana'a is a wonderful place and the Old City is an UNESCO site, certainly deserving more that a few hours tour: so, if you can, plan more time in the city!