The archaeological sites of Wadi Mathendous in the Sahara desert
11 October 2007

Our today excursion in the heart of the Sahara requires a trekking inside the bed of an ancient dried river, where beautiful archaeological findings (including rock paintings and carving) dated about 8000 years ago were discovered.
We leave the sand dunes of Murzuk, driving to the archaeological site of Wadi Mathendous.
The archaeologial site is located into a bed of a dried river, in the middle of a desolate flat of black stones. We trek inside the canyon for about 5 kilometers.
The graffiti are located on the canyon's wall, in three main sites about 4km from each other.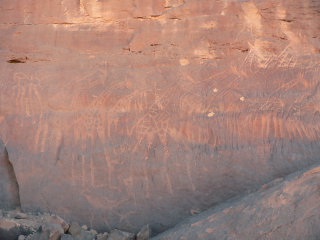 Graffiti representing giraffes, elephants, hippos and egyptian cats with big ears. The style of these cats may indicate that this place was populated by egyptian's ancestors, migrated towards east in today's Egypt, because of the extending desert.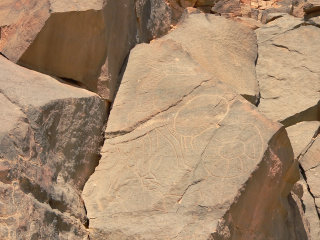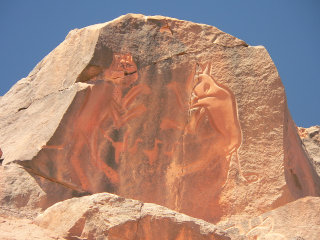 I reach the last archaeological site inside Mathendous, where the most famous graffiti are present. Above: a men killing a rhino, a giraffe and, below, giant cats.
Me taking pictures of the sunset. Picture by Federico.
° ° °
° ° °
Contact | About us | Privacy and use of cookies
This site is copyright protected, please contact the author before using any part.