Discovering scuba diving in Thudufushi
March 2004


Most diving centers in the Maldives gives the opportunity to get a test dive excursion, even for beginners whom never dressed a wetsuit. The test diving excursion is usually made inside the lagoon, in an easy place without currents, under the supervision of certified guides. In this section you will find underwater pictures of Thudufushi taken during a test dive.
Me underwater, my first scuba diving trial in Maldives.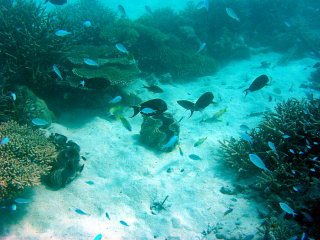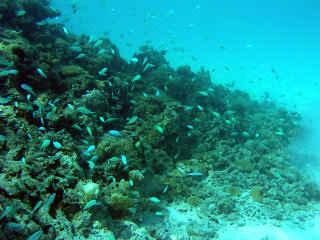 The test scuba dive continues at a few meters of depth, where there are corals and many different species of fish.
Photo of a school of surgeon fish.
° ° °
° ° °
Maldives and Thudufushi - home page
Contact | About us | Privacy and use of cookies
This site is copyright protected, please contact the author before using any part.