Tropical Coast (Costa del Sol) in Southern Spain
January 2003

Here you will find information about attractions along the Tropical Coast in southern Span, not far from Granada. Trip review and photos from a tour by car among the towns on Mediterranean sea, discovering Arab castles, underground caves, picturesque streets and plantations of tropical fruits.
The day starts with a short drive from Granada to the Mediterranean sea and to the town of Salobrena with its picturesque houses covering an entire hill. On the top of the hill, an old arab castles was used as a fortress or as a luxury residence, depending on the domination (catholic or muslim) of the moment.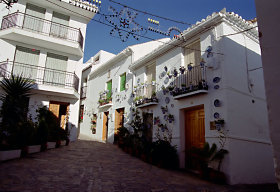 Typical streets between the houses of Salobrena. Often they are so twisted and branched, that it is very easy to get lost, like in a labyrinth.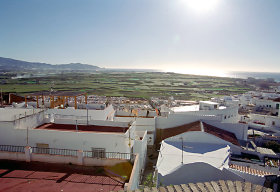 A view from the top of the arab castle, toward the sea, the modern town and the plantations of tropical fruits.
It is easy to imagine the importance of a fortress in a so strategical place, with unlimited visibility to the sea, to the town and to the Sierra Nevada mountains.
Nerja caves. They are located near the town with the same name and they was discovered by a group of childrens while playing, around years 1950. They are composed by several large chambers, up to 40 x 40 meters wide and 30 - 40 meters high, full of stalactites / stalagmites of bizzarre shapes, hundreds of thousands of years old.
On the left: the town of Nerja, on the right: Almunecar with his old arab castle visible near the right side of the picture.
From the botanical garden of Almunecar it is possible to observe the arab castle on the top of the hill, as well as the archaeological remains of the old farm used by fenicians to dry the fish.
A huge tree of Ficus elastica with an estimated age of around 500 years. Its trunk is about 3 meters in diameter and has an immense, dense foliage.
° ° °
° ° °
Contact | About us | Privacy and use of cookies
This site is copyright protected, please contact the author before using any part.