Alpujarras tour by car
January 2003

Here you will find information about Alpujarras (Sierra Nevada mountains) in southern Spain and pictures of the various attractions that worth a visit during a tour in Andalusia.
Lanjaron is a village famous for its mineral and healty waters, on the left picture, a panoramic view of the town, and on the right picture, archeological remains of an old arab castle.
A narrow road, used to connect all the towns, climbs on the Sierra Nevada mountains, passing deep canyons and valleys. On the top pictures, the towns of Pampaneira and Bubion are visible near the sun / shadow border. On the left picture, a view of Pampaneira and the winding road.
Typical, very picturesque streets in Pampaneira. Many narrow roads make labyrinths between the white homes. The canal in the middle of the walkway is used to manage water from precipitations and from underground. On the rightmost picture, a courtyard is used as a common access to multiple houses, as well as a public access street to reach different parts of the town.
On the top-left: the old wash-house used to wash the clothes. On the right: the typical roofs of the houses. On the left, the typical streets in the town.
This is the scenery where the road connecting the towns on the Sierra Nevada is built.
The travel continues toward Trevelez, Sierra Nevada's highest town. On the way I can see some springs of medicinal waters very rich in iron (as colors denote), which also taste like "iron". This water has important therapeutics properties and it is frequently used to cure several illness.
A small church with white walls creates a beautiful contrast with intense-blue sky.
The higher area of Trevelez. Here the weather deteriorates and starts to snow. Also in this town the houses are very picturesque with narrow streets, flat roofs and white walls.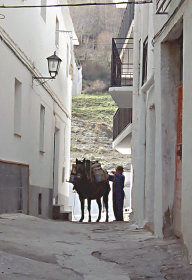 Typical street of Trevelez. The homes usually have three floors. The ground level is used to grow animals (chickens, rabbits, etc.), the first floor contains the living rooms, while the second has bedrooms.
Trevelez is famous for his cured ham. This is a typical facility used to dry ham without adding any kind of chemicals and using only natural processes. Indeed the air here is very fresh and dry because of the altitude and this condition represents a very good environment to obtain an excellent ham using only marine salt, fresh air and... time... a lot of time! On the top left picture, the ham is being dehydrated by salt, then it is pressed and covered with fat (top-right). Finally, it is left to mature for the correct number of months (bottom-left).
The day ends with a visit to the town of Capileira, where I can walk again between the narrow streets and look at beautiful mountains.
° ° °
° ° °
Contact | About us | Privacy and use of cookies
This site is copyright protected, please contact the author before using any part.