Cruise to Macquire Island, a Sub-Antarctic island of Australia
28 November 2007

Macquarie island, belonging to Australia and isolated from the rest of the world by thousands of kilometers of water in any direction, is the home for millions of penguins, including the endemic Royal penguin, as well elephant seals. The first landing is made at Sandy Bay.
The ship arrives near Sandy Bay, Macquarie Island, in the morning. Soon, a large group of King penguins come to investigate.
Far away from the coast, Macquarie island appears quite desolated, but the surprises will not wait to arrive.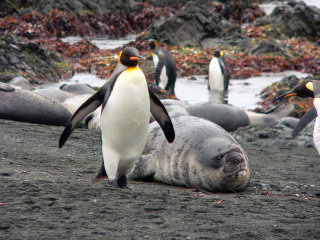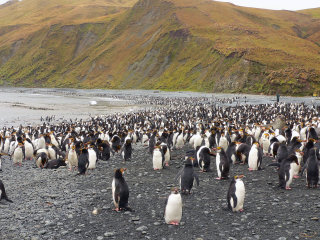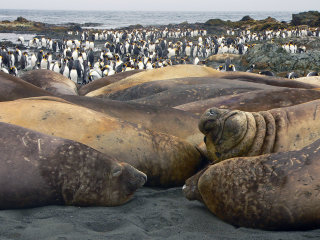 This is the spectacle that can be seen once landed at Sandy Bay on Macquarie island. King penguins (including chicks at different development stages), the endemic Royal penguin that can be found only on Macquarie Island, elephant seals, skuas, giant petrels.
Rabbits present on Macquarie island.
Very inquisitive cubs of elephant seals. It is enough to sit on the beach and soon one of them will come to investigate.
Me near an elephant seal pup. Courtesy of Sarah McElrea, Cruise Director.
The typical vegetation of Macquarie island, made of large tussok grass.
° ° °
° ° °
Subantarctic Islands cruise info
Contact | About us | Privacy and use of cookies
This site is copyright protected, please contact the author before using any part.