Cholpon-Ata: beaches and resorts
15, 16 August 2019

Cholpon-Ata is a city in northern Kyrgyzstan that rises along the shores of Lake Ysyk-Kol and offers numerous tourist attractions, as well as beautiful beaches where to soak up the sun.
WHAT TO SEE IN CHOLPON-ATA: ESSENTIAL TRAVEL GUIDE AND PHOTOS
Cholpon-Ata is a city in Kyrgyzstan of just over 10,000 inhabitants, located along the northern shores of Lake Ysyk-Kol at an altitude of 5350ft, not far from the border with Kazakhstan. During the period of the Soviet Union, the city experienced a remarkable development, as a destination for tourists organized in large groups coming from other parts of the continent, attracted by the lake with its numerous beaches and for the beautiful landscape. Many hotels were built, still used today to accommodate the many tourists visiting from Central Asia and Russia.
Cholpon-Ata can be reached in about 4 hours drive from Bishkek, along a road in good condition and is often included as a stop-over in most tourist circuits throughout Kyrgyzstan (alternatively, visitors may get to Cholpon-Ata from Bishkek by private taxi, as they are very cheap also on very long trips). A full day is usually enough to visit the various attractions and to rest for a couple of hours on a beach, but longer stays will be ideal for who would like to enjoy the lake for additional time.
Main tourist attractions in Cholpon-Ata:
Ysyk-Kol lake - with its elevation above 5000 feet, it is the second largest mountain lake in the world. Its waters are clear, salty and not too cold. Cholpon-Ata offers several beaches and real bathing resorts where visitors can spend a few pleasant hours.


Cholpon-Ata petroglyphs - not far from the city's center, near the runway of an abandoned airport, there are numerous petroglyphs depicting animals and people, engraved on large boulders and dating back up to 2000 years b. C.


Rukh Ordo museum - it is a large park where contemporary artists illustrate the history of world and religions, while other pavilions are dedicated to the culture and traditions of Central Asia.


Hippodrome - it is a large structure with the stands overlooking the Ysyk-Kol lake. When events are not scheduled, horseback riding and hunting demonstrations with eagles are offered.


Market - at the Cholpon-Ata market visitors can find numerous items of local craftsmanship, especially felt or excellent wool garments, at very affordable prices. There are also numerous fruit and vegetable stalls and pavilions selling generic items, including electronics.


History museum - houses numerous findings related to Kyrgyz history and traditions, dating back up to the 10th century.


Amusement park - along the shores Ysyk-Kol lake, there is a village for tourists with numerous hotels, guesthouses, restaurants and a small amusement park housing a panoramic wheel, roller coasters and other attractions.


But now let's see some photos of Cholpon-Ata taken during our tour.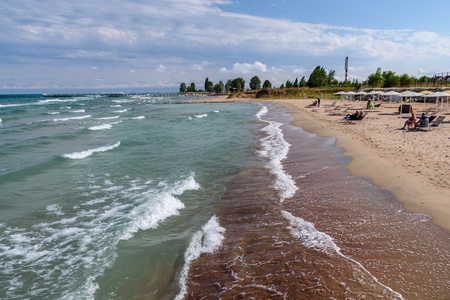 In Cholpon-Ata there are numerous
Ysyk-Kol lake beaches
. The water is not too cold for swimming, while the resorts are equipped with umbrellas, deck-chairs and tables. The place is relaxing and is also ideal for sunbathing, without forgetting that due to the altitude and clear air, there is lot of UV. radiation requiring the use of best sunscreens.
Petroglyphs in Cholpon-Ata
. Not far from the city center, near the runway of an abandoned airport, there are numerous large boulders with petroglyphs depicting animals and people, dating back up to 2000 years b. C.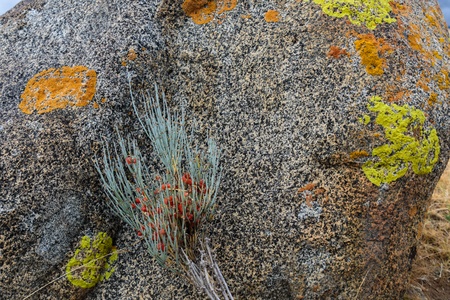 Some boulders are instead covered by brightly colored
lichens
.
The
tour to Cholpon-Ata
continues by visiting the modern hippodrome, a structure that overlooks the Ysyk-Kol lake. When events are not scheduled, visitors can take short horse rides or watch the eagle hunters (proposing selfie to earn some money...)
Rukh Ordo is an open-air museum located along the shore of Lake Issyk-Kul in Cholpon-Ata.
The complex includes several mini museums, photo galleries, chapels that represent different religions, exhibitions of sculptures and hundreds of paintings from various artists.
The Rukh Ordo exhibition is constantly updated with new and interesting items, mainly by contemporary artists.
In the museum we can observe numerous
balbals
, stone idols quite common in Central Asia, carved in memory of deceased people.
In Rukh Ordo museum we find five chapels, each of which represents a religion, namely: Islam, Catholicism, Orthodoxy, Buddhism and Judaism.
The chapels are identical externally, while internally they show the typical icons of each religion, as a metaphor to communicate that even if the symbols change, God is still one for all.
A large pavilion is dedicated to the culture and traditions of Central Asia and Kyrgyzstan, where there is also the reconstruction of a yurt and a vast collection of ak kalpaks.
The only negative comment we have to make is that the explanations on the various finds are all in Kyrgyz language and, without a translation in English, it's not always easy to understand what visitors look at.
We now move to the outskirts of Cholpon-Ata, where there is a
village for tourists
housing numerous guesthouses, hotels, restaurants and pubs. Cholpon-Ata is an important tourist destination for Kyrgyz, Russians and other people from Central Asia, thanks to the lake, the beaches and the beautiful surrounding landscape.
Near the tourist village there is also an
amusement park
with a panoramic wheel, roller coasters and other attractions. All close to a beautiful sandy beach of Lake Ysyk-Kol.
Paragliding
with watercraft on Lake Ysyk-Kol in Kyrgyzstan.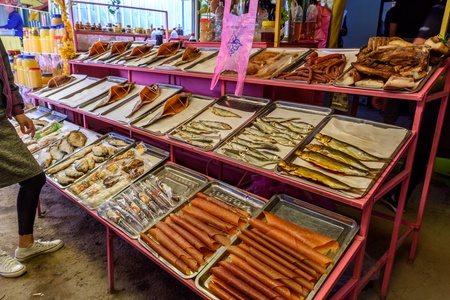 Our
Cholpon-Ata tour
ends with a visit to a large
market
with stalls selling locally produced fruit, vegetable and honey. There is also a large section with handicraft products, at vary affordable prices.
° ° °
° ° °
Contact | About us | Privacy and use of cookies
This site is copyright protected, please contact the author before using any part.