Issyk-Kul lake: beach life in Kyrgyzstan
11, 12 August 2019

Lake Issyk-Kul is located in north-eastern Kyrgyzstan at an altitude of 5272ft and is the second largest mountain lake in the world after Titicaca in South America. Its beaches and slightly salty waters, but not too cold, offer an interesting diversion during journeys in the country.
Issyk-Kul LAKE IN KYRGYZSTAN
Lake Issyk-Kul is a salty water basin located in north-eastern Kyrgyzstan at an altitude of 5272ft. With its length of 111mi for an average width of 30 and a maximum depth of 2192ft, lake Issyk-Kul is the second largest mountain lake in the world, after Lake Titicaca in South America.
Around the shores of Issyk-Kul lake there are several cities, or smaller villages, and there are numerous sandy beaches frequented by tourists coming from many locations in Russia and Central Asia. Depending on your sensitivity to the water temperature, during a beautiful and windless summer day, it is really possible to take a relaxing swim, without forgetting that on the beach the UV radiation is higher than normal due to the altitude (it is therefore essential to protect your body with a suitable sunscreen).
Due to increasing tourism, it is possible to stay overnight in numerous facilities (we stayed at Yurt Camp Sonun in Bokonbayevo). Not far from the lake there are plenty of opportunities for excursions among steppe, mountain, canyons and deserts.
But now let's see some photos of Lake Issyk-Kul taken during our trip...
The southern shores of Lake Issyk-Kul near the village of
Bokonbayevo
where visitors may get to by taxi from Bishkek in about 4 hours (taxis in Kyrgyzstan are very cheap). The water looks very clear and transparent.
Looking at the opposite shore of the lake, we can see mountains with peaks over 12,000ft covered by glaciers.
A few kilometers from Lake Issyk-Kul the landscape changes completely. From the village of Bokonbayevo you can make day trips to nearby
canyons
with picturesque red rocks.
It is enough to go a little bit further and the landscape changes again, from desert to
alpine
. With the red rocks of the canyon still visible in the distance, the landscape begins to fill with fir trees that grow along the banks of a stream.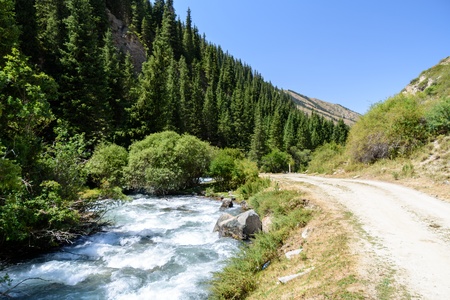 The alpine landscape of Kyrgyzstan, not far from the southern shore of Lake Issyk-Kul, dominated by lush forests, thundering streams and high mountains.
The journey continues towards Karakol, crossing again a narrow canyon with red rocks shaped by wind and water.
° ° °
° ° °
Contact | About us | Privacy and use of cookies
This site is copyright protected, please contact the author before using any part.