Konorchok canyons (Boom Gorge)
7 August, 2019

The Konorchok canyons (Boom Gorge) are a couple of hours away from Bishkek and are often included as a stop-over during longer Kyrgyzstan tours. Let's see what they are and how to organize an excursion.
KONORCHOK: CANYON IN KYRGYZSTAN
Suluu-Terek, commonly known as Konorchok canyons or Boom Gorge, are a series of gorges and narrow canyons modeled by Chu river, offering excellent opportunities for exciting hikes in a semi-desert environment, among colorful and oddly shaped rocks.
This location lies about 80 miles of paved road from Bishkek, for a journey time of around 2 hours, and can be visited either as a day trip from the city, either as a stop-over on a longer trip throughout the country. In both cases, it is advisable to get to the canyon not too late in the morning, as it takes several hours for a complete visit and in summer it may be hot and very sunny, especially during mid-afternoon.
The walk in the canyon is not particularly demanding and doesn't require to climb. Only occasionally it may be necessary to help yourself using arms to pass some large boulder. Once you have parked the car near the start of the trail, it takes at least an hour to reach the most beautiful rocks, where you may either continue to walk among this surreal world (if you are not too tired), or just sit down and enjoy the view a little bit more, before going back through the same trail.
For this excursion to Boom Gorge, you need to bring at least 2-3 liters of water per person, sufficient snacks, hat, sunglasses and sunscreen. Trekking poles are not necessary, but they may help. It is however good to be prepared, as we noticed that the local guides usually tend to underestimate the difficulty and the length of the excursions.
But now let's see some photos of Konorchok canyons taken during our excursion...
The trail going into
Konorchok canyons
starts at a railway among a spectacular landscape.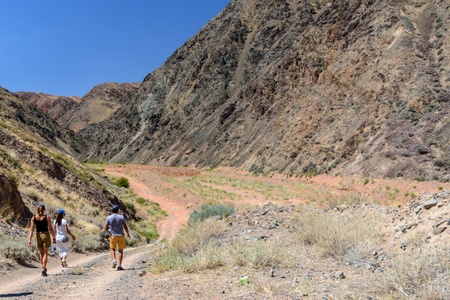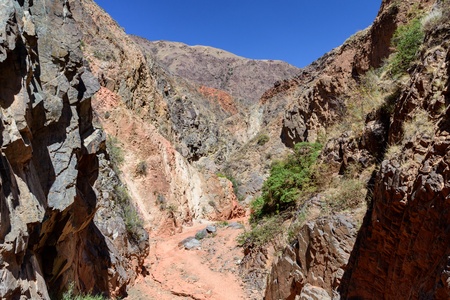 The
trek
takes place along a trail that follows the profile of a narrow canyon for about 2 miles, among a very dry landscape.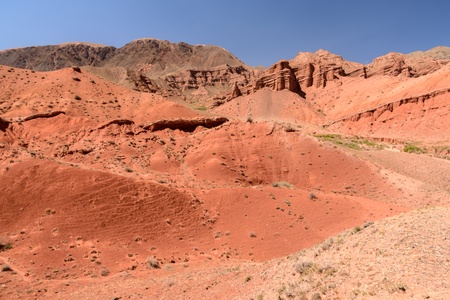 Suddenly, the narrow
gorge
that we just crossed, opens up onto a landscape dominated by oddly-shaped red rocks, modeled by wind and water. It is estimated that these formations date back to around 2 million years and, for those who have enough time and energy, a series of paths allow to get closer and explore more.
° ° °
° ° °
Contact | About us | Privacy and use of cookies
This site is copyright protected, please contact the author before using any part.