PHOTOS OF KYRGYZSTAN | FULL TRAVELOGUE
Bishkek
<<-- GO
Bishkek, the capital of Kyrgyzstan, is the main base from which tours in Kyrgyzstan usually start. We take advantage of a whole free day to visit this interesting city of Central Asia.
Konorchok Canyons (Boom Gorge)
<<-- GO
Not far from Bishkek, along the main road leading to the various Kyrgyz's tourist destinations, there are a series of gorges and narrow canyons with oddly shaped colorful rocks.
Tuura-Suu
<<-- GO
Nestled among majestic Kyrgyzstan's mountains, at an altitude of 2200 meters, Tuura-Suu is a remote village where nomadic families take advantages of the endless surrounding grasslands, as summer pastures.
Temir-Kanat
<<-- GO
Temir-Kanat is a small rural village where green valleys cultivated with fruits and vegetables, make a picturesque contrast with barren mountains all around. We visit a family of nomads who hosts us in a yurt camp on top of an hill.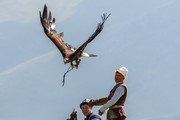 Bird of Prey festival
<<-- GO
Every year at the beginning of August, the Birds of Prey festival is an excellent opportunity to get a glimpse into Kyrgyz traditions, watching horse games, eagle hunting and dances in traditional clothes.
Issyk Kul lake
<<-- GO
With its altitude of over 1600 meters, Issyk Kul lake is considered the second largest mountain lake in the world: but although the high altitude, its waters are not so cold and a bath can be a relaxing diversion.
Karakol
<<-- GO
Karakol is located in northeastern Kyrgyzstan and is a good starting point for excursions to Tien Shan Mountains. The city itself offers a variety of interesting must-see attractions.
Cholpon-Ata
<<-- GO
Cholpon-Ata is an important tourist resort for its beautiful beaches on Lake Issyk Kul and is a destination for Kyrgyz people, as well as for many others from Russia and Central Asia.