JORDAN TRAVELOGUE AND JORDAN PICTURES
Day trip to Jerash ruins from Amman in Jordan
<<-- GO
Jerash is an ancient city dating back to two thousand years ago that has known many great civilizations, including Roman, Greek and Byzantine. The ruins are among the best preserved in the world, although several catastrophic earthquakes have caused much damage during the past centuries.
Relaxing vacation to the Dead Sea in Jordan
<<-- GO
The Dead Sea is over 400 meters below sea level, in the deepest depression of the Earth. Its water is 10 times saltier than the oceans, allowing to easily float even if you don't swim. Furthermore, its mud rich in minerals is a panacea for many diseases and defects of the skin.
Excursion to Mount Nebo, St. George church, Kerak castle and Amman
<<-- GO
Along the road known as Kings' Way, cutting across most Jordan from north to south, there are several attractions of great historical and archaeological importance. An Amman day tour is followed by an excursion to Mount Nebo and Madaba famous for its ancient Byzantine mosaics. The last stop is at Kerak castle, before reaching Petra late in the evening.
Petra tour, the ancient Nabataean city in the Seven Wonders of the World
<<-- GO
Petra is a city dating back to 2000 years ago and built by the Nabataean people (ancient Arabs). The archaeological site has a large number of massive monolithic tombs carved directly into the mountain, as well as other buildings used for the every day activities. Petra is a UNESCO heritage and is one of the Seven Wonders of the World.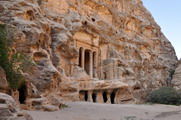 Excursion to Little Petra and hike to the High Place of Sacrifice in Petra
<<-- GO
Little Petra (or Al Beidha) is an old rest area used by caravans travelling between today's Syria and Egypt or Saudi Arabia. The High Place of Sacrifice in the main city of Petra is instead an important religious structure than can be reached by a one hour trek to the summit of a mountain.
Trip to Wadi Rum desert in Jordan
<<-- GO
The Wadi Rum is a small desert in the far south of Jordan near the border with Saudi Arabia and mainly inhabited by Bedouins. A trip in a 4x4 and some trek allow you to enjoy the scenic beauty of this unusual environment.