Things to see in Abhaneri: Chand Baori stepwell
India | Rajasthan
|

Abhaneri is just a small dot on the map of Rajasthan, but tourists should not miss the opportunity to take an excursion here, because the village is home to one of the deepest stepped wells in India, known as Chand Baori. Abhaneri also houses an ancient temple not far from the well.
ABHANERI: WHAT TO SEE - INFO AND PHOTOS
Abhaneri is located in Rajasthan, a couple of hours drive from Jaipur and four hours from Agra, and is a destination not to be missed when traveling between these two locations.
In fact, Abhaneri houses the Chand Baori, one of the deepest stepwell in India, a unique engineering work, with an architecture and perspectives so particular, that it seems coming out from a Escher's painting. The construction of Chand Baori probably started around the 7th century, although some archaeologist believe that it dates back to no earlier than the 9th century. This stepped well was built to ensure an easily accessible source of water during the dry seasons: the well has 3500 steps built to reach the water 13 floors below the ground, at a depth of 30 meters (98.4 feet), even though the level of water actually depended on rainfall throughout the year.
Not far from Chand Baori stepped well, we find the ancient Hindu temple of Harshat Mata, Goddess of Joy and Happiness, built more or less in the same historical period and whose ruins are unfortunately not in perfect state.
To visit Abhaneri, including Chand Baori stepwell and Harshat Mata temple, it is necessary about one hour. The village is located a short detour from the main road connecting Jaipur to Fatehpur Sikri, Agra and Delhi and there is no need to add intermediate or additional overnight stays.
But now let's see some photos of Chand Baori and Harshat Mata temple taken during our excursion to Abhaneri.
Abhaneri is a small village known for the amazing
Chand Baori
, a stepwell where 3500 steps allow to access the water which is 13 floors (30 meters / 98 feet) lower. It is estimated that this incredible engineering work dates back between the 7th and 9th centuries.
Other photos of
Chand Baori stepwell in India
, located in Rajasthan near the village of
Abhaneri
. The perspective of the steps is really amazing and looks coming out from an Escher's painting, but it is so huge to look like the representation of Dante's Inferno. This is definitely a location not to be missed during any tour in Rajasthan and is probably one of the most amazing tourist attractions of whole India.
The number of steps to descend in order to get to the water, always depended on the actual level and therefore on the rains that occurred during the previous months.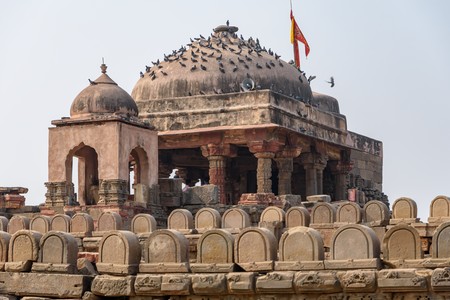 Another attraction in Abhaneri is the Hindu
temple of Harshat Mata
, Goddess of Joy and Happiness, dating back to more or less the same historical period of the stepped well.
° ° °
° ° °
Contact | About us | Privacy and use of cookies
This site is copyright protected, please contact the author before using any part.