What to see in Pushkar
India | Rajasthan
|

Pushkar is located along the shores of a sacred lake where pilgrims coming from whole India perform ablutions and pray. The town also houses the Brahama Temple, the only Hindu temple in India dedicated to creator-god Brahama. Yearly, the Pushkar fair, is the largest cattle fair in Asia, not to be missed.
ABOUT PUSHKAR
Pushkar is a town of just over twenty thousand inhabitants located not far from Ajmer, 3 hours by car from Jaipur and 6 from Udaipur, and is therefore a good intermediate stop to have a rest when traveling between these two cities. If you are not traveling in India by car and driver, Pushkar can be reached with a short taxi or tuk tuk ride from the nearby Ajmer train station, while there are no airports in the immediate vicinity.
The whole town of Pushkar is a sacred place and this can be felt while walking in every corner of the streets, among the bazaar and along the shores of Pushkar lake. There are no restaurants serving meat of any kind and it is forbidden to consume alcoholic beverages in compliance with Hindu vegetarianism. It is forbidden to photograph temples or ghats, even from outside (ghats are steps leading down to sacred waters). Pushkar is also the site of the Brahama temple, the only Hindu temple in India dedicated to the creator-god Brahama, while the largest cattle fair in Asia is held annually in October or November and sees thousands of camels and other animals on sale.
Important: take care. Although it can be pleasant and relaxing to walk through the bazaar or to see the pilgrims praying along the ghats, we have to report the presence of "holy" Brahamans (and not) who, in addition to enforcing the rule that no photos are taken inside or outside any sacred place, target tourists by persuading them to participate in the puja, a sort of ritual where people have to spell some magic formulas. That would bring good luck and good things, all of course in exchange for money, otherwise good luck will become bad luck (it is rumored that particularly manipulable tourists may pay up to hundreds of euros / dollars, persuaded by the words of the most skilled holy men). In any case, even if no "offer" is finally paid, it is always a nuisance to be continually stopped by these hypothetical spiritual guides and we strongly recommended to use common good sense and to be very careful, as they are very good in grabbing tourists. To do this in the best way, they speak almost every language (English, Italian, German, French, Russian, someone also Japanese and more).
The main attractions in Pushkar, that should not be missed, are:
Brahama Temple. The Brahama Temple is the only Hindu temple in India dedicated to the creator-god Brahama and for the pilgrims it's a kind of "Mecca". Before entering, visitors need to deposit any kind of bag or backpack at the entrance, exactly as camera, leather objects, food and drinks. It is forbidden to photograph even outside the temple (however, I must add that there are no particularly beautiful things which really worth a picture).


Ghats. A ghat is a series of steps leading down to sacred waters (in this case, to the sacred Pushkar lake) where pilgrims make ablutions, pray, spell magic rituals and throw flowers in the water. As for most sacred places in India, visitors are required to remove the shoes, it is forbidden to drink, eat, smoke and, in this particular location, also to photograph (even outside and even if there are no people in the frame). Always take care for locals wanting to involve you in a puja, see earlier on this page for the full story.


Pushkar bazaar The Pushkar bazaar develops in the historic center, around the shores of Pushkar lake and is a continuous succession of stalls and shops that sell everything. The narrow alleys make it impossible to travel by car, but only on foot, by motorbike or bicycle.


Pushkar fair. Although it is known as the "camel fair", during this event, lot of different animals are on sale. Pushkar fair is the largest cattle fair in Asia, it is usually held between October and November, and attracts thousands of people from all over India. If you decide to visit Pushkar during this event, it is good to book hotel and other services several months in advance, because everything gets full quite fast.


How long time is necessary to visit Pushkar? To visit Pushkar, a couple of hours are necessary. If you are on the road between Udaipur and Jaipur, or between Jodhpur and Jaipur, it is better to sleep one night in one of the many hotels available in Pushkar, to have a good rest and to visit the town the next morning. If, on the other hand, you are in Pushkar for the camel fair, it is better to plan a full day and two nights (minimum).
What is the best time to go to Pushkar? The best time to visit Pushkar goes from October to March, as the rest of Rajasthan, because the weather is much drier and cooler compared to the other months.
But now let's see some photos of Pushkar taken during our trip in Rajasthan.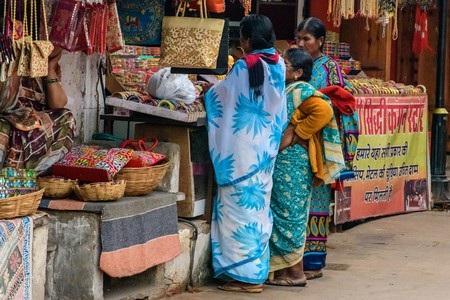 The sightseeing in Pushkar begins from
Pushkar bazaar
, which develops throughout the historic center around the shores of Lake Pushkar. This is a classic Indian market, full of shops and stalls selling everything and where pedestrians often have to make their way among cattle and motorcycles.
From a small road on the edge of the Bazaar, visitors may enter in
Pushkar Brahama temple
, the only Hindu temple in India dedicated to creator-god Brahama. This is the limit beyond which it is not allowed to carry bags, backpacks, food, drinks, leather items and camera (but inside there is really nothing special to photograph, when compared to other temples in India).
From other streets on the sides of Pushkar bazaar, there is access to various
ghats
(there are 52 ghats throughout Pushkar). A
ghat
is a series of steps leading down to sacred waters, in this case to the waters of
Lake Pushkar
, where pilgrims pray.
Fortunately, I can find a ghat where the photos seem to be tolerated, so I can take some shots just to give an idea of what we are talking about. In practice, pilgrims descend to the water through the
ghats
, where they
wash
,
pray
and
spell magic rituals
, before throwing
flowers
into the sacred lake. Visitors must always pay attention to holy men who, as already explained, persuade tourists to have a
puja
in exchange of an "offer".
Besides the temple of Brahama, the main one, in Pushkar there are numerous other
temples
both in city center and in the suburbs.
° ° °
° ° °
Contact | About us | Privacy and use of cookies
This site is copyright protected, please contact the author before using any part.