Ranakpur Jain Temples
India | Rajasthan
|

Along the road that connects Jodhpur and Udaipur, Ranakpur, with its magnificent Jain temple of Chaumukla, offers the opportunity to enjoy a true masterpiece of art and architecture.
RANAKPUR: THINGS TO SEE (WITH PHOTOS)
Ranakpur is a remote location nestled among the Aravalli Range in Rajasthan, which can be conveniently reached by taking a short detour from the main road that connects Jodhpur and Udaipur, thus offering an excellent opportunity to relax, have a rest and see beautiful things, during the long drive between these two cities.
Instead, for visitors not traveling in Rajasthan by car and driver, Ranakpur can be reached in a couple of hours by taxi from Udaipur (while Jodhpur is much further away). Alternatively, the nearest railway stations are Falna or Rani (both about 35km away).
Ranakpur is known for several amazing Jain temples, although the most famous and visited is the Chaumukla temple (sometimes improperly called the Ranakpur temple), a true masterpiece of art and architecture dating back to the 15th century, and a destination not to be missed when traveling in Rajasthan.
To visit Ranakpur it is usually required one or two hours of time. Visitors without a guide will find an audio guide available at the ticket office, in most major languages. It is necessary to leave leather objects, food, drinks, shoes, sandals and slippers outside. Completely black clothes are prohibited.
What is the best time to visit Ranakpur? The best time to go to Ranakpur is from October to March, as most northern India. On weekends and public holidays the place may get quite crowded, with large groups arriving by bus.
But now let's see some photos of Chaumukla Temple taken during our trip in Rajasthan.
The
main temple of Ranakpur
, called
Chaumukla
, dates back to the fifteenth century. The main structure consists of a massive white marble building occupying 4500 square meters (48500 square feet), where 1444 pillars support 80 domes among 29 rooms. A staircase leads to the main entrance of the temple, from where visitors can enjoy a view on the facade with its beautiful statues and detailed bas-reliefs.
As soon as visitors enter into
Ranakpur Jain Temple
, they will immediately notice a real "forest" of pillars, all uniquely sculpted, so as to be different from each other, which support terraces on several levels and huge domes.
The superb central
domes of Chaumukla temple
are supported by numerous carved columns showing intricate bas-reliefs with divinity figures.
This very detailed
bas-relief
is one of the finest and most important sculptures in Ranakpur temple and depicts a
Kalpavriksha
, which according to Jainism, is a tree that fulfills people's wishes.
Another important sculpture in the
Chaumukla Jain temple
is this amazing representation of
Parshvanatha
with the head surrounded by 1008 snakes.
Other photos showing the splendid
marble sculptures
in Ranakpur temples, a truly priceless artistic heritage.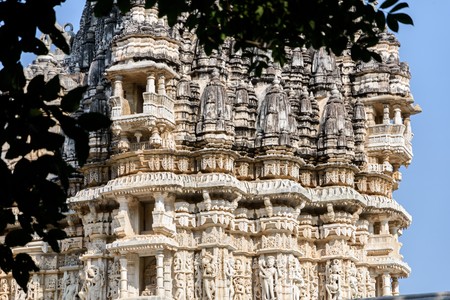 Not far from
Chaumukla
, the main Ranakpur temple, there are other
Jain temples
yet showing intricate marble working along the facade.
An excursion to Ranakpur offers the possibility to travel among Rajasthan's countryside, where visitors may come across unusual things, like an
ox mill
. In the one pictured here, sesame paste and sesame oil are produced and sold to passing cars. The sesame paste is sweet like a candy, while sesame oil is mainly used to treat various skin problems.
Ranakpur is located among the
Aravalli Range
. The road is panoramic and, from time to time, there are trees full of big bats sleeping upside down.
Another
ox-driven mill
, this time used to pump water from a reservoir located downhill.
° ° °
° ° °
Contact | About us | Privacy and use of cookies
This site is copyright protected, please contact the author before using any part.