Excursion to Gokyo lakes (4790m)
01 January 2006 - Departure time : 08:30 - Arrival time: 11:45

Excursion to the 4th lake, north of Gokyo. The Gokyo lakes have no name, but they are just numbered from south to north. At the beginning of the winter, the lakes are completely frozen but still without snow on top.
Picture of Gokyo lake. The third lake, frozen, shortly after sunrise.
Panoramic photo of Gokyo lakes. A panoramic view, just before arriving to the 4th lake.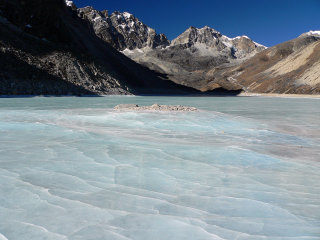 Photo of Gokyo lake. The lake is completely frozen. Not only it is beautiful to observe it, but it is also very funny to hear all the noises coming from below the surface.
Back to Gokyo village. In the photo above, the 3rd lake.