Excursion to Gokyo Ri (5350m)
31 December 2005 - Departure time : 07:30 - Arrival time: 12:30

Excursion to Gokyo Ri (5350m) for a wonderful view onto Everest, Cho Oyu and Ngobumba glacier. Gokyo Ri is an hill in front of Gokyo village and offers the opportunity fr a different view on Everest if compared to Kala Pattar.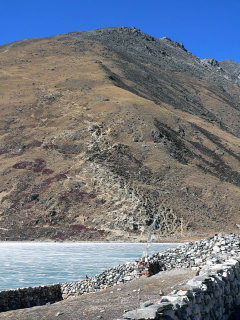 The Gokyo Ri hill that I'm about to climb. The trek to Gokyo Ri is a popular half day excursion from Gokyo, because of the beautiful ( and unusual ) view on Everest, Cho Oyu and other important peaks of the Himalaya.
Panoramic photo of Himalayas. A panoramic view on Ngozumba glacier, Cho Oyu (left), Everest (center) and many other important himalayan peaks. The Gokyo Ri is about 5350 meters tall and this panorama picture is takes from the top of the hill. Under beautiful weather, the view is just incredible and like a dream.
Is it best to see Everest from Kala Pattar or from Gokyo Ri?
You are probably wondering what is the best place in Nepal to see Everest and the other peaks, because if you don't have enough time to trek both Kala Pattar and Gokyo Ri, you will have to make a choice. There is actually no absolute best place to see Everest, because each place has its own strong points. From Kala Pattar you can see Everest from shorter distance, with beautiful views of Khumbu glacier and trekking among the most famous places for Everest climbing. From Gokyo Ri, the Everest a little bit farther away, but you can see part of the northern side usually not visible from other "observation decks" in Nepal. Furthermore, the Ngozumba glacier on a side with the Gokyo lakes of the other, create a fantastic scenery very picturesque, that can be rarely observed in the Himalayas.
Panoramic view on the opposite direction on top of Gokyo Ri.
Left picture: frozen rivers going in the frozen lake. Right picture: a section of the lake still not frozen. After some time spent on the top of Gokyo Ri, taking beautiful Himalaya pictures, I descend back to the more comfortable altitude of Gokyo village.