Trek from Phakdingma (2650m) to Namche Bazaar (3450m)
19 December 2005 - Departure time: 08:20 - Rest: 11:50 / 13:00 - Arrival time: 15:40

Trekking from Phakdingma to Namche Bazaar, the Khumbu region's capital, in the heart of the Himalayas. During this trek, the altitude will slowly increase throughout the day, until reaching Namche Bazaar at 3450 meters where I will stop two night for proper acclimatization.
The nice himalayan scenery all around.
Photo os Dudh Kosi river.
A little rest along the trail.
Photo of an Himalayan Monal.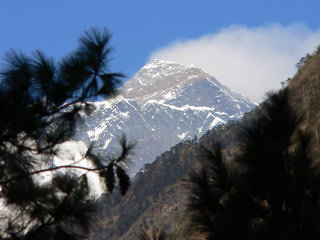 My first view on
mount Everest
!
A panoramic photos of Namche Bazaar, shortly after sunset.