Stegna bay resort in Rhodes island, Greece
August 1st-15th, 2009

Stegna bay is located about 35km from Rhodes international airport and is a charming place still not affected by mass tourism. We did stay here for 15 days, relaxing on the sandy beach and doing many day tours on Rhodes by bus, rented car and chartered boats.
Our trip to Rhodes island begins arriving in Stegna bay, that will be our home for the next 15 days and from where the daytours will depart.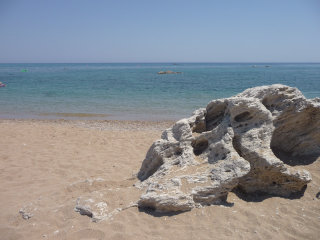 Stegna is a wide bay with lot of good sand. Differently from many other parts of Greece and Rhodes island, the water here is particularly warm and calm.
Rhodes island is a destination particularly interesting for families and young people, because of the activities available and the water sports.
Pictures of Rhodes seen from the sea. Today, we rent a boat, trying to reach the secluted Red Beach.
The Red Beach is deserted because it can be reached only by small boats. There are no trails or road coming here. The best way to come here is to rent a small boat.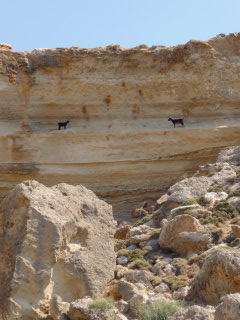 Sheeps in a strange place.
On another excursion, we visit the Anthony Queen bay, where there are unfortunately too many tourists.
° ° °
° ° °
Contact | About us | Privacy and use of cookies
This site is copyright protected, please contact the author before using any part.