Half day Boston tour
October 2002

Half day excursion in Boston downtown while waiting for a connecting flight, visiting the downtown and the Prudential Centre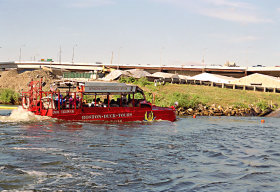 Today my flight from Winnipeg via Chicago arrived in Boston at 2:30pm. As my connecting flight back to Paris and then to Rome leaves at 8:05pm, I have several hours for a quick tour of Boston Downtown. So I take a train to Prudential Center, from where I partecipate to a guided tour by Duck Tours using a special amphibious vehicle (uses wheels on the ground and floats on the water). It's very nice when with a big SPLASH we enter the water and navigate in the beautiful channels around the city.
...and of the most important sights.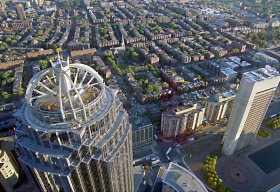 Finally I climb on the 50th floor of the Prudential center from where I take these pictures, before heading back to the airport for my flight back to home.
The lobby of the Prudential center.
° ° °
° ° °
Vermont fall foliage travel info
Contact | About us | Privacy and use of cookies
This site is copyright protected, please contact the author before using any part.