Chicago half day tour
October 2002

Half day excursion in Chicago while waiting for a connecting flight, visiting the downtown and climbing on the top of the Sears Tower.
Today my flight from Vermont via Albany NY arrived Chicago O'Hare with 90 minutes of delay, at 3:30pm. As the connecting flight to Winnipeg departs at 7:10pm, I still have a couple of hours for an excursion in Chicago Downtown instead of waiting in the airport. So I take the train (the railway station is conveniently located inside the terminals) and enjoy a 45 minutes trip in the last coach of the train, from where I take the above pictures.
I decide to descent at Jackson, which is one of the closest stations to Sears Tower. Unfortunately it is already late afternoon and the conditions of the light are no longer optimal.
I finally arrive at the Sears Tower where I take the elevator for the last floor, after a short video presentation of Chicago's history.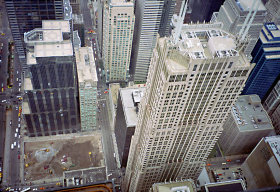 Today the visibility is good, altough it is getting quite dark and the sky is cloudy. I can see the entire city, the lake Michigan and the airports (including Meigs Field, on the bottom-left picture).
I continue to take some picture, before heading back *quickly* to O'Hare airport for my evening flight to Winnipeg.
° ° °
° ° °
Vermont fall foliage travel info
Contact | About us | Privacy and use of cookies
This site is copyright protected, please contact the author before using any part.