FALKLAND PICTURES AND TRIP REVIEW
Flight to Punta Arenas over Patagonia and travel to Puerto Natales
<<-- GO
Flight from Santiago to Punta Arenas via Puerto Montt and bus transfer from Punta Arenas to Puerto Natales. An unusual clear day offers spectacular views over Patagonia glaciers, including the famous Perito Moreno, while the LAN Chile's Airbus A320 is en route to Punta Arenas.
Day tour to Torres del Paine national park and Milodon cave
<<-- GO
A full day excursion in Torres del Paine national park and Grey lake, starting and ending in Puerto Natales. The city of Puerto Natales in southern Chile is conveniently located near most attractions in Patagonia, making possible to visit them through just day tours.
Day trip to Perito Moreno glacier in Argentina
<<-- GO
With a 5 hours trip (each way) on a partially paved road, it is possible to visit the Perito Moreno glacier in Argentina through a full day trip from Puerto Natales. The Perito Moreno glacier is a natural wonder known all over the world and is a very active glacier offering spectacular calving.
Day trip from Puerto Natales to Balmaceda and Serrano glaciers
<<-- GO
A full day cruise inside the Ultima Esperanza fjord, reaching the Balmaceda and Serrano glaciers. Short hike inside the Bernardo O'Higgins national park. This day trip departs and returns to Puerto Natales, offering beautiful views into the pristine nature of southern Chile and Patagonia.
Bleaker Island trip review
<<-- GO
After a flight from Punta Arenas to Mount Pleasant and one night in Stanley, the Falkland islands' capital, I take a FIGAS flight to Bleaker Island, to spend three days with penguins and other birds. Bleaker island offers accommodation in a charming cottage inside a farm, from where there are several trails to penguin colonies and other beautiful places.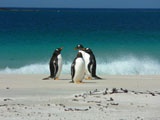 Gentoo penguins and white beaches of Bleaker Island
<<-- GO
A full day to explore the island on foot, visiting the Gentoo penguin colony and the beautiful Sandy Bay beach, made of incredibly bright white sand, where I meet even more penguins. The gentoo penguins have arrived from not long time in October and are busy in nest building and courtship.
Rockhopper penguins and king cormorants on Bleaker Island
<<-- GO
A second visit to the vast Rockhopper penguins and cormorants colony, where I spend most of the day observing these beautiful and funny birds. The colony is just twenty minutes easy walk from the cottage on Bleaker island and in addition to excellent birding, it offers also beautiful landscapes.
Tour to Sea Lion Island to the southern elephant seals colony
<<-- GO
Sea Lion Island is particularly interesting to observe the huge southern elephant seals, but here you will find more Gentoo, Magellanic and Rockhopper penguins, as well as caracara and many other birds. Sea Lion island is just a few minutes flight from Mount Pleasant and is the southernmost island in the Falklands archipelago.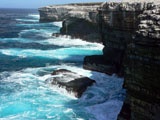 Day hike to Rockhopper Point on Sea Lion Island
<<-- GO
A place of staggering beauty, where vertical walls of rocks, falling straight into the southern ocean, are the home of Rockhopper penguins, king cormorants, rock cormorants and many other birds. If you are looking for an excellent birding trip and for beautiful landscapes, Sea Lion Island is the place to go.
Birding tour to Sea Lion Island (Falkland Islands)
<<-- GO
Sea Lion Island has also vast colonies of Gentoo and Magellanic penguins, and is not difficult to observe caracaras, southern giant petrels, skuas and other birds. Everything is available through easy walking distance from the island's only lodge where you will find excellent accommodation and good food.
Tour to Saunders Island and The Neck cabin
<<-- GO
I spend three nights at "The Neck" on beautiful Saunders Island, where there are colonies of Rockhopper penguins, Gentoo, King (few penguins only) and Magellanic penguins in addition to other birds like albatross, king cormorants, caracara and skuas, all of them immersed into fantastic scenery.
Albatross colony and Rockhopper penguins of Saunders Island
<<-- GO
Just 10 minutes walk from the cabin at "The Neck" on Saunders Island, there is a vast colony of Rockhopper penguins living together with albatrosses and king cormorants. During the month of October, most of them are busy in nest building, courtship and mating.
Day trip to Volunteer Point from Stanley (Falkland Islands)
<<-- GO
Volunteer Point is located about two and half hours from Stanley, driving on gravel roads as well as off-road in a good 4x4. The place offers wonderful landscapes dominated by an immense white sand beach and many penguins, including the Falkland's biggest King penguin colony.
King penguins colony at Volunteer Point (Falklands)
<<-- GO
I spend hours observing the beautiful King penguins, having now many juveniles. This is the most easily accessible colony of the world, as the others are all located on remote sub-antarctic islands requiring a cruise ship with fixed schedules (usually not allowing to enjoy the penguins with peace of mind).
Cruise to Falkland Islands - March 2005
<<-- GO
Returning from a cruise to Antarctica and South Georgia, I had the opportunity to visit Stanley, Carcass Island and New Island for a couple of days (that time I was pretty sure that a couple of days is certainly not enough to enjoy the Falkland Islands, so I've promptly planned the two weeks itinerary illustrated in this trip review).