Day tour to Abu Simbel to visit Ramesses II and Nefertari's temples
December 21st, 2009

A flight from Cairo to Abu Simbel thru Aswan, brings me to the temples of Ramesses II and his wife Nefertari, saved from the waters of lake Nasser when the Aswan High Dam was built. From Abu Simbel, a cruise of five days on lake Nasser starts aboard the MS Eugenie ship.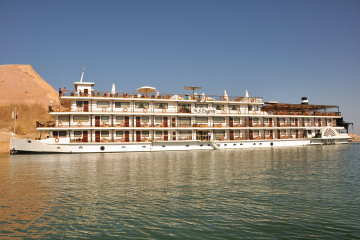 The MS Eugenie cruise ship, still anchored near Abu Simbel temples, ready to leave for Aswan about 240 kilometers to the north.
The Abu Simbel temples, respectively of Ramesses II (left picture) and his wife Nefertari (right picture). Originally, these temples, carved directly into the mountain, were located 60 meters below the current altitude, but they were moved here in the '60s in order to save them from the increasing waters of lake Nasser, after the costruction of the High Dam in Aswan. The temples were firstly protected with a temporary dam keeping the waters away during the hard work, then they were cut into blocks, transported and re-built on the top of this hill.
Inside the Ramesses II temple there are 14 rooms, with the walls completely covered by paintings and relifes in excellent conservation state and representing the political and social life in ancient Egypt. The Nefertari temple is smaller than Ramesses II temple. There are no pictures of the rooms, because it's forbidden to take pictures inside, even if without flash. To have an idea, they are similar to Abydos temple near Luxor, for which you can see many pictures on this web site.
Abu Simbel pictures. The cruise ship is now anchored in front of the Abu Simbel temples, to see them at night and from a different perspective.
The ship now sails to Aswan, navigating onto Nasser lake for the next five days. The Nasser lake is 500km long and has an average width of 10km (extending up to 25km). The average deep is 60-70 meters. The lake Nasser is the world's biggest artificial lake, born after the creation of the High Dam in Aswan. This event has changed the geography of ancient Nubia, as well as of the Egypt, changing the life of millions of people.
The MS Eugenie cruise ship does the Aswan - Abu Simbel route on an average of two times per week and lets to visit several small (but beautiful temples) present along the shores of Nasser lake and still not invaded by mass tourism. There is one planned excursion every day (or maximum two excursions) of a couple of hours each, so the lake Nasser cruise is particularly pleasant and relaxing.
This was my cabin (standard, single), having also a small verandah outside. The ship has normal comfort things, except the television. A satellite phone is available on board and there is also a doctor.
° ° °
° ° °
Contact | About us | Privacy and use of cookies
This site is copyright protected, please contact the author before using any part.