One Foot Island: picnic on a deserted island
August 25th, 2018

One Foot Island is located only a few minutes by water taxi from the main island of Aitutaki and is the ideal place to organize an excursion on a desert island, in a breathtaking tropical seascape.
ONE FOOT ISLAND - THINGS TO KNOW BEFORE GOING
One Foot Island is located in Aitutaki atoll not far from the outer reef and about a 15-minute speedboat ride from most resorts located on the main island of Aitutaki. One Foot Island is so called because seen from above resembles a large left foot, which size is about 200 meters long and 100 wide at the widest point. From One Foot Island, walking for about half a kilometer in the crystal-clear waters of the lagoon, guests can get to a huge sandbank, a sort of "almost island" whose size changes depending on the tide, and where some palm trees are starting to grow. With a short swim, guests may instead get to the nearby island of Tekopua, or to other sandbanks and very small islets. A series of coral reefs are instead an excellent opportunity for some snorkeling, while the turquoise, crystal-clear and calm waters of the lagoon are ideal for long baths in a huge natural pool.
A day trip to One Foot Island is one of the most popular Aitutaki excursions and is a must-do for all those staying in Cook Islands. The biggest operators visit this island with quite large group excursions around lunchtime, when a barbecue is organized near the beach, but generally the stop does not exceed a couple hours. By arranging instead a trip with a private water taxi, bringing snacks and water, guests can stay on One Foot Island for as long as they wish, increasing the chances of finding themselves completely alone on a deserted island (at least for some part of the day) or sharing the place with very few people. To organize the trip by water taxi, the best way is to ask assistance to the facility where you are staying in Aitutaki, taking care to make the request at least a few days in advance and after having checked the weather forecasts for the next days.
For who is particularly adventurous, on One Foot Island there is also a kind of hut where guests may overnight, but there isn't running water or electricity (mobile phone signal is also very weak or totally absent). The facility is called McBirney House and can be booked through several tour operators, which will also organize the water taxi service from / to Aitutaki airport or other facilities in Aitutaki. For who would like to stay longer on One Foot Island, another option is to use just a water taxi for any number of days, returning each night on the main island of Aitutaki.
But know let's see some photos of One Foot Island taken during our holiday in the Cook Islands.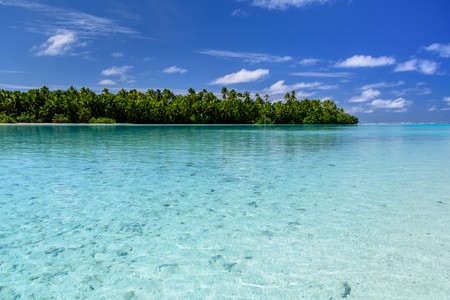 One Foot Island photos
, an island so called because seen from above resembles a big footprint. Guests can walk around the whole island in half an hour, taking care to bring a pair of sturdy (tied) sandals because part of the island has no sandy beach, but larger pieces of coral. The lagoon is crystal clear and has calm and warm turquoise waters, ideal for long baths in an amazing natural pool extended to infinite in all directions. The island is best appreciated with a medium or low tide when the colors and the size of the beach are at their best. In total low tide, the colors soften slightly, while at high tide it is more difficult to walk from island to island without swimming, or to explore the lagoon on foot.
A shot by a drone allows to appreciate the landscape of One Foot Island from top.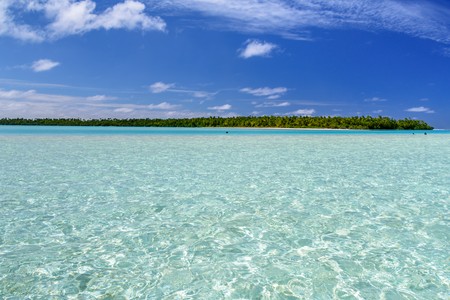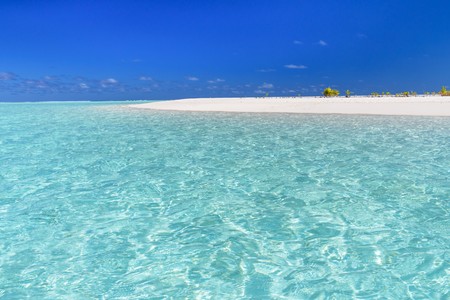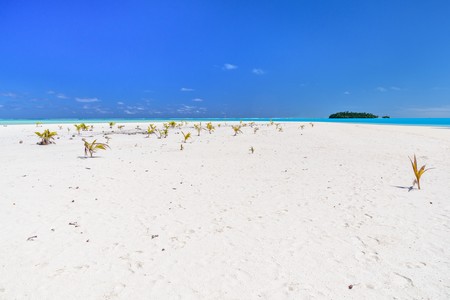 At low tide, guests can walk into Aitutaki lagoon until a huge
sandbank
located less than half a kilometer from One Foot Island. At high tide, it is still possible to swim after having checked carefully the currents. The sandbank off One Foot Island is a kind of islet less than 200 meters in diameter, whose actual size changes a lot with the tide. Small palm trees are trying to colonize the little space, while the setting all around is certainly one of the most beautiful we seen in whole
South Pacific
.
At One Foot Island is also possible to
snorkel
among the calm and safe waters of the lagoon (directly from the beach) observing corals and lot of
giant clams
for which Aitutaki is particularly famous.
° ° °
° ° °
Contact | About us | Privacy and use of cookies
This site is copyright protected, please contact the author before using any part.