Aitutaki excursions: Honeymoon Island
August 24th, 2018

Honeymoon Island and nearby Maine Island are the perfect deserted islands, in a magnificent setting among some of the most beautiful in the Pacific Ocean. If you are in Aitutaki, organizing a Robinson Crusoe picnic on these uninhabited islands is not difficult.
ABOUT HONEYMOON ISLAND
AND
MAINE ISLAND
Honeymoon Island is an uninhabited island in the lagoon of Aitutaki, about a 15-minute boat ride from Arutanga port (on the main island). It consists of a strip of sand about half a kilometer long, whose actual length and width depend on tide (it will be much larger at low tide and smaller at high tide). This sandbank leads to the actual beach, a huge expanse of white and soft sand, which surrounds a small palm grove. Crystal clear turquoise waters, warm and very calm, extend to the horizon in all directions.
From Honeymoon Island, guests can get to Maine Island either on foot during low tide (walking in shallow waters) or swimming in high tide. Compared to Honeymoon Island, Maine Island is larger, has more vegetation and is closer to Aitutaki's outer reef. Both islands are populated by colonies of tropic birds, picturesque birds with a beautiful red or white tail, nesting directly on the ground. Depending on season, lot of chicks can be observed at various stages of growth, with parents bringing food after having recognized them by voice calls.
The Honeymoon Island excursion (as well as the excursion to Maine Island) can be organized directly with the facility where you stay in Aitutaki, taking care to make the request well in advance, better if after having checked the weather forecasts for the next days. Most operators provide the excursion to Honeymoon Island by private water taxi, with the possibility of buying a packed lunch, alternatively food and drinks can be brought by your own. Once dropped on Honeymoon or Maine island, guests will agree the pick-up time and location for the return trip. The place is so beautiful and charming, that we advise to stay all day. Also, since guests can choose to be dropped on either Honeymoon Island or Maine Island, it would not be a bad idea to book a full day trip for each island.
Although in most cases you can enjoy Honeymoon Island or Maine Island in complete solitude for at least part of the day, we should not forget that such places are becoming more and more popular, so the experience of being completely alone to have a picnic on a desert island, without anybody else, it's not completely guaranteed. Visitors should be also aware that on Honeymoon Island there is a small logistic base for kitesurfing enthusiasts (although well hidden among the palms) so it's better to make sure to avoid Honeymoon Island where there is some planned training course or competition.
But now let's see some Honeymoon Island photos and Maine Island photos.
Getting to Honeymoon Island by water taxi from Aitutaki
, the small boat stops along an half-kilometer long sandbank, which allows access to the actual island after a pleasant walk barefoot. However, we first agree the pick-up time and location with the water taxi driver, before he goes back to Aitutaki mainland, leaving us here almost alone. Some tourists who visit Honeymoon Island, do it by group tours that provide just a short morning break. Instead, using a private taxi service, guests can stay as long as they like, finding themselves alone for most of the time (especially from late morning onwards).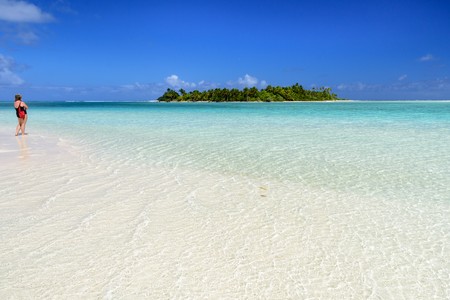 Photos of Maine Island
and
photos of Honeymoon Island
, with the huge expanses of sandbanks and the vast turquoise lagoon that will keep you busy exploring this paradise for all day.
Honeymoon Island and Maine Island are home to a large colony of red-tailed
tropic birds
. These beautiful birds nest directly on the ground and in these photos we can see some adults flying over the sea in search of food, as well as chicks of different stages of growth and their parents.
Unfortunately Honeymoon Island is a base for
Kitesurfing
enthusiasts who can come here to practice this sport, or to participate in real international competitions. It is therefore better to plan the excursion to Honeymoon Island only when you are sure that there are no kitesurfers around (you can ask this information to the water taxi operator or to the agent where you are booking the day trip).
More photos of Honeymoon Island and Maine Island with their vast
sandbanks
, the immense beaches and the fantastic
lagoon
.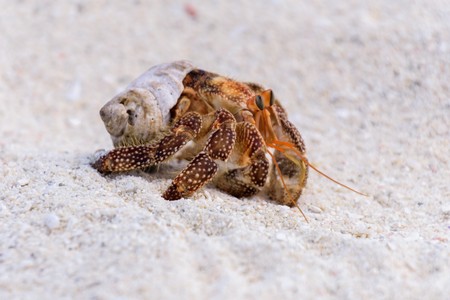 Bye bye Honeymoon Island, the water taxi is coming to take us back to Aitutaki main island.
° ° °
° ° °
Contact | About us | Privacy and use of cookies
This site is copyright protected, please contact the author before using any part.