Tour to Tucson and Phoenix before continuing to Montezuma Castle
September 1993

Arizona - Tucson day tour, to the Old Tucson Studios (a set for western movies), continuing to desert museum and to Saguaro National Monument where there are thousands of giant Saguaro cactus. The trip will then continue north to Phoenix and Montezuma Castle.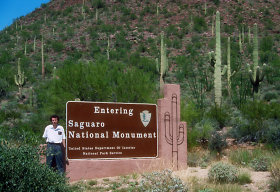 Saguaro National Monument, near Tucson, home to thousands of beautiful Carnegiea gigantea cactus (Saguaro)
The Desert Museum in Tucson is home to Sonora's desert typical flora and wildlife. It really worth a visit.
After some hours on the highway driving north, we get to the residential area of Scottsdale in Phoenix.
The Montezuma Castle is an ancient construction escavated into the rock and dated more than 600 years. It was the home for the Sinagua Indians and it's conveniently located along the way from Phoenix to the Grand Canyon.
° ° °
° ° °
Contact | About us | Privacy and use of cookies
This site is copyright protected, please contact the author before using any part.