Northen Studies Centre and hike in Churchill
October 2002

After some additional short tundra buggy tour searching for polar bears, the group is transported back to Churchill before a visit to the Northen Studies Centre and a short dog sledge tour.
Today we get up and leave the lodge very early, heading to the Northen Studies Centre and then back to Churchill. The sunrise at 8:00am is spectacular.
At the Northen Studies Centre we assist to a nice slide presentation about an Anterctica / South Pole expedition by dog sleds and then we enjoy a short tour conducted by professional drivers.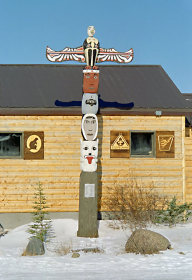 Later in the afternoon, I take a city tour on my own. Polar bear warning signs are all around the beaches on the bay.
Today is a beautiful sunny day, with no wind and without a single cloud in the sky. I continue to take pictures of the typical streets and homes of Churchill, the railway station,, before heading back to the airport for the evening flight to Winnipeg and say goodbye to this wonderful northen frontier.
° ° °
° ° °
Polar bear safari travel guide
Contact | About us | Privacy and use of cookies
This site is copyright protected, please contact the author before using any part.