Tour by Tundra Buggy looking for polar bears
October 2002

The polar bear safari tour continues aboard the tundra buggy, along the shores of Hudson Bay, where lot of polar bears and other arctic wildlife create excellent photo opportunities. A short hike on the tundra, in a safe place where there aren't polar bear, follows.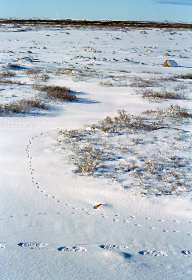 Footprints in the snow. From left to right: a Polar bear, an Arctic fox, and the footprints all together. Indeed the taiga is full of bears and foxes' tracks, almost everywhere.
Another Tundra Buggy explores the immense taiga around the bay.
Then he rolls on the snow. The bears are very lazy and very intelligent creatures, they are like humans. The color of the snow is strange because I've used Kodak Gold instead of my usual Agfa Vista film.
From the top, left to right: me on the third window - me close to a tire - a walk on the taiga - the Tundra Buggy seen from below.
Other trees with branches on one side only. Usually a lot of ice and snow accumulates on the naked parts, carried by winds.
° ° °
° ° °
Polar bear safari travel guide
Contact | About us | Privacy and use of cookies
This site is copyright protected, please contact the author before using any part.