Getting to Churchill and exploring the town
October 2002

Flight from Winnipeg to Churchill by Calm Air via Thompson, followed by a guided Churchill city tour to discover this interesting remote community.
We are about to depart from Winnipeg bound to Churchill, and our Hawker HS748 has been de-iced.
While en route, the pilots receive bad news regarding the weather in Churchill, affected by a severe winter storm and they decide to land in Thompson, Manitoba, waiting for better conditions at our final destination. We will wait in Thompson about 2 hours, in the meanwhile I take some picture of the aircraft and of the taiga around the terminal. The temperature is -10°C with occasional chilly winds.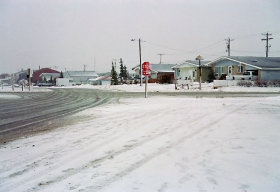 We finally arrive in Churchill, where we enjoy a good lunch and an excursion in the town. The weather is still snowy and quite windy, but not so much cold. I walk in the town, taking pictures of typical homes and streets, under persisting snow showers.
Inside the railway station, we assist to a video presentations about several topics (including polar bears). Here there is also a small but interesting museum, where I take these pictures.
° ° °
° ° °
Polar bear safari travel guide
Contact | About us | Privacy and use of cookies
This site is copyright protected, please contact the author before using any part.