Travel to Botswana from Johannesburg overland
3 and 4 August 2006

How to get to Botswana? I've chosen to arrive in Botswana via Johannesburg with a long day trip onboard the same vehicles that will be subsequently used for the actual game drives. This has saved some money and inconveniences, since the flights to Botswana were still very expensive and with poor connections at the time of this travelogue.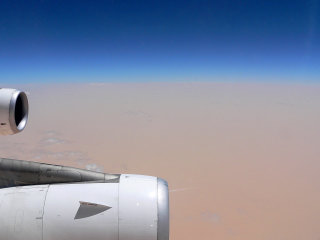 After 15 hours of delay in Paris, because of an Airfrance 's broken A340 aircraft, I finally resume my flight to Johannesburg. In the pictures, flying over the Sahara desert.
From Johannesburg the trip to Botswana continues with this vehicle, a chartered bus looking like a truck, with huge windows for better sightseeing. The trip was comfortable and the 900 kilometers to Nata in Botswana was covered in about 14 hours.
Traveling from South Africa to Botswana, the landscape is typically quite flat, with average altitude ranging from 1700 to 700 meters.
Crossing the border between South Africa and Botswana.
Nata is the first overnight stop in Botswana. This motel offers chalets as well as spaces to set up tented camps, a swimming pool and a resturant. The area is interesting for bird watching.
The trip throughout Botswana and to Victoria Falls, continues on this smaller game safari vehicle, featuring excellent views from the seats and from the roof.
° ° °
° ° °
Contact | About us | Privacy and use of cookies
This site is copyright protected, please contact the author before using any part.