Sightseeing trip to Nuku'Alofa and Tongatapu island (Tonga)
17 August 2012

As our connecting international flights require to spend a night on Tongatapu after coming from another Tongan island, we take this opportunity to vist Nuku'Alofa, the Kingdom of Tonga's capital, and to have a short sightseeing trip on the island.
Our sightseeing trip to Tongatapu begins at Keleti Beach, where huge waves crash on a natural cliff that protects a small beach.
The southern coast of Tongatapu island is known to have raised platforms of fossilized corals where the waves crash into.
Where to stay on Tongatapu? Our accommodation in Tongatapu was at Keleti International Resort, featuring a beautiful garden and comfortable rooms. The hotel is located at Keleti beach, a spectacular place along the southern shores of Tongatapu.
The Keleti beach is located just outside Keleti International Resort.
Nuku'Alofa pictures. Nuku'Alofa is the Kingdom of Tonga's capital and has population of just more than 20.000 people. In the pictures, one of the main street and some of the churches.
Street names in Nuku'Alofa.
More Nuku'Alofa photos. The Royal Tombs at the Mala'ekula in Nuku'Alofa is the place of burial for Tongan kings and their closest relatives. The area is closed to visitors, but there is a good view from the main fence.
Not too far from Nuku'Alofa downtown, there is a colony of flying foxes (giant bats). They are completely harmless, since they feed mainly on fruit and nectar.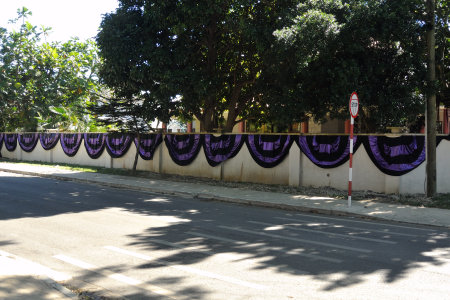 On March 2012, Tonga's king George V has suddenly died and since then, in sign of mourning and respect, purple ribbons are displayed throughout Nuku'Alofa.
The sightseeing trip in Tongatapu continues visiting the south-western shores where huge waves crash on raised terraces of fossilized corals.
We finally visit the Ha'amonga 'a Maui also known as the "Stonehenge of Tonga", buit on the beginning of 13th century as an entrance door to the royal compound.
° ° °
° ° °
Tonga travel guide and travel tips
Contact | About us | Privacy and use of cookies
This site is copyright protected, please contact the author before using any part.