Flying in Tonga. Aerial photos of Tonga.
8 and 17 August 2012

Any holiday to Tonga will most likely begin with some spectacular flight from Nuku'Alofa International Airport on the island of Tongatapu (where every international flight from Australia or New Zealand arrives), to the final destination island. The local airline has several propeller aircraft, assigned daily to the various routes according to the number of booked passengers.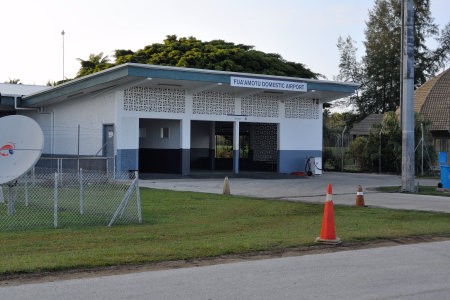 Most holidays to Tonga will probably begin aboard one small prop aircraft belonging to the local airline that provide inter-island flights. These flights are operated from and to Fuamotu Domestic Airport, a small terminal located about three minutes by taxi from the international terminal of the same airport (Tongatapu or Fuamotu international airport, not too far from the state's capital Nuku'Alofa).
The Kingdom of Tonga was one of the few places in the world (if not the only one), where it was still possible to fly aboard the legendary Douglas DC-3. This aircraft was built in 1945 and has undergone several restoration processes, including the most recent done by Chathams Pacific.
Douglas DC3 photos: this airplane was normally chosen for flights between Tongatapu and Ha'apai / Vava'u, when the number of passengers booked for the route was between 10 and 20. Chathams Pacific has now ceased the flights in Tonga, currently operated by Real Tonga.
Other aircraft that were operated in Tonga by Chathams Pacific: a kind of "paradise" (and perhaps also a small museum) for all aviation enthusiasts. In the top-left photo, a Fairchild Metro III 18-seater, pressurized, fast and very comfortable. In the photo above, a Convair 580 accommodating 50 passengers.On the left, a Beech Baron 65 "Queen Air", an 8 seater plus pilot, non-pressurized. Aircraft registration number: A3-CIA.
We board the Beech Baron 65 Queen Air, this morning in service between Tongatapu and Haapai. The aircraft is flown by only one pilot and has a classic analogue instrumentation coupled with a GPS.
The safety card aboard the aircraft is written in Tongan language.
A few minutes later we are cruising at an altitude of about 5000 feet and at a speed (IAS) of 166 knots, as shown respectively by the altimeter and the anemometer.
Aerial photos of Tonga. Flying over Tonga is an experience by itself, thanks to the spectacular landscape and the excellent visibility from Chathams Pacific aircrafts.
After about 40 minutes from the departure from Tongatapu, we arrive at Ha'apai airport: a small runway that cuts the island in two parts and where there is a small terminal.
The space on these small atolls is always very limited, so the village's main street intersects also the airport runway. A kind of level crossing blocks the passage of private cars when an aircraft is about to land to to depart.
° ° °
° ° °
Tonga travel guide and travel tips
Contact | About us | Privacy and use of cookies
This site is copyright protected, please contact the author before using any part.