Travel to Petropavlovsk-Kamchatskiy and city tour
July 28-29-30, 2010

The direct flight from Moscow to Kamchatka is particularly interesting, especially in beautiful weather, because most of the route is over Russia's arctic. The downtown of Petropavlovsk-Kamchatkiy doesn't have attractions for tourists, except some beautiful volcanoes view in good weather, but the city is the ideal base for excursions or longer tours in Kamchatka.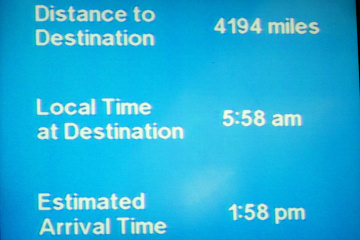 Aeroflot's Moscow - Petropavlovsk Kamchatsky flight is operated by Boeing 767 or Ilyushin 96-300 depending on schedule. Here in the pictures, a Boeing 767-200 is displayed. The flight from Moscow to Kamchatka lasts nine hours non-stop and flies over the Russia's arctic for most of the time.
The aircraft flies over Russia arctic during the night but, as is summer and due to the high latitude, the sun never sets completely. Flying over arctic is the shortest route between Moscow and the Kamchatka peninsula. Below, the landscape is dominated by a flat tundra having countless lakes and rivers without a name.
The aircraft starts the approach to Petropavlovsk-Kamchatskiy airport.Like shark's fins, majestic volcanic cones cut the uninterrupted carpet of dense clouds, projecting themselves into the sky.
Aeroflot's Boeing 767 parked at Petropavlovsk-Kamchatskiy airport, the main airport in Kamchatka.
Petropavlovsk-Kamchatskiy has less than two hundreds thousands inhabitants and doesn't offer anything special to tourists, except the beautiful landscape all around. Until few years ago, the Kamchatka peninsula was closed to tourism, as as this region was very important for strategic military bases and nuclear submarines.
Above, the monument dedicated to Peter and Paul. On the left, Lenin square hosting a Lenin statue, the main place where Petropavlovsk-Kamchatskiy inhabitants met.
Majestic volcanoes make an interesting background to Lenin statue and Petropavlovsk-Kamchatsky buildings.
A beach made of fine volcanic sand (and thence very dark), is an unusual place to swim at such northern latitude, but some brave people is not scared by the cold and angry waters of the Pacific ocean.
The hotel during my stay in Petropavlovsk-Kamchatsky was Geyser hotel, about seven kilometers from the city center. Seen from outside, the hotel seems quite austere, but inside it's charming enough, considering the latitude.
A wonderful breakfast with crepe and salmon caviar, before the adventure of the day begins.
° ° °
° ° °
Contact | About us | Privacy and use of cookies
This site is copyright protected, please contact the author before using any part.