Snorkeling with whales and swimming with dolphins in Niue
August 19-26, 2011

From approximately June to September, lot of whales visit Niue, so the island becomes one of the few places in the world where is possible to swim with whales, a fantastic experience that you will never forget! Swimming with dolphins is also another exciting possibility.
The excursion to swim with whales starts on board a small rubber boat, which holds less than 10 tourists, off the coast of Niue island, well out of the reef. The day is overcast and a bit wet, but this is very convenient, because the trip lasts about 3-4 hours and spending all this time under the sun, would be certainly less comfortable than a few drops of rain. The snorkeling with whales tour is organized by
Niue Dive
, a company specializing in scuba diving in Niue and other sea excursions. The equipment can be supplied on request from Niue Dive, including a very welcome wet suit.
Pictures of whales. From the rubber boat, tourists start to look around, trying to localize some whale. As soon as a whale is spotted, the rubber boat goes quickly as near as possible to the whale.
Once the rubber boat reaches the point where more or less the humpback whale has been seen, you start looking down and, as soon as the eye adjusts to different light, you begin to glimpse the shape of a huge "big fish" down into the abyss.
At this point, you start "chasing" the whale, swimming slowly. It is not necessary to be good swimmers to snorkel with whales, the humpback whale may swim for 100-300 feet before it emerges again so, you should be able to follow her. Anyway, the speed at which the whale swims is quite modest, so it will not be difficult at all. Now it's just a matter of time: within 5-10 minutes the whale will come out to breathe and you can see it close up in all its majesty and its beauty. Photo of whales.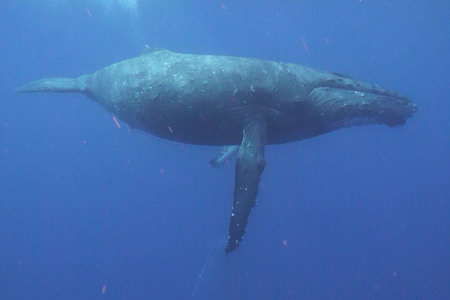 In fact, after a few minutes, the humpback whales swim back to the surface, not taking care about the presence of tourists. Whales can be so close, that seem almost to touch you with their fins and tail. Swimming with whales is an unique experience and Niue is one of the few places in the world that allows you to snorkel with whales in perfect safety.This
movie of whale
shows a
whale coming to surface to breath
.Another
movie with whales
.
Like an angel wanting to fly to the heaven, this humpback whale dives into the abyss with a grace and an elegance rare in the animal world.
In Niue it's possible to snorkel with dolphins. After swimming with humpback whales, the rubber boat approaches the reef, in search of dolphins that will soon appear numerous!
Pictures of dolphins. Swim with dolphins in the open sea is an unforgettable experience, and it will be very funny to be in the middle of a very large herd!
After this wonderful excursion that allowed me to swim with whales and snorkel with dolphins, I return to the Coral Gardens Motel where, from the terrace of the reception, I can still see lot of whales emerging and plunging. Whale Watching in Niue is possible between June and October, when you may see them by just sitting down somewhere along the coast or, if you are lucky enough, from the verandah of your hotel. Whales pictures, humpback whales photos.
° ° °
° ° °
Contact | About us | Privacy and use of cookies
This site is copyright protected, please contact the author before using any part.