Hike to Talava Arches and Matapa in Niue
August 19-26, 2011

Two trails in Niue departing from the same parking lot and offering so beautiful views onto caves, natural arches, small canyons like "Indiana Jones" adventures and also an interesting snorkeling (in Matapa).
Talava Arches are accessible through a walk of about 20 minutes in the middle of the rainforest that covers the island of Niue. The soil is composed largely by pieces of fossilized coral, where both herbaceous and woody plants grow. Since the fossilized coral is very sharp, it is recommended to hike wearing good trekking shoes and long pants.
Stones like these are present in millions on the island of Niue. Often, the creatures visible in these ancient fossils, can be viewed live along the reef.
The trail ends at a large cave full of stalactites and stalagmites of various tints, depending on the minerals present along with calcium carbonate. This is amazing and, once again, you will not expect to see these big underground caves on a coralline atoll in the South Pacific.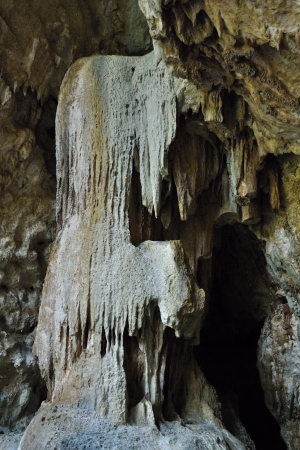 In Niue there are numerous caves, all easily accessible through well-marked trails (except one or two, requiring a guide). The caves are generally very large and have spectacular shapes and colors.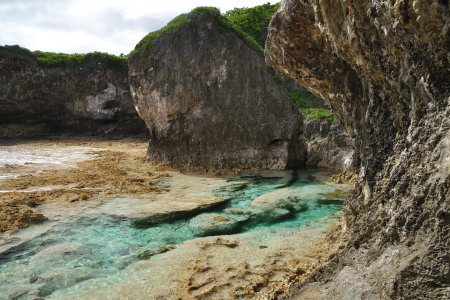 On the reef there are some holes that contain mini aquariums with corals and other invertebrates. Because of the small size of these holes, it is not advisable to snorkel here.
... until I reach Matapa, a narrow gorge in the rocks that hosts a beautiful aquarium a several meters deep. Due to the exposure in the shade, the water is pretty cold, but swimming is great fun for the presence of different colored fish and the striking landscape. Swimming here is very easy and suitable also for beginners.
Snorkeling in Matapa, along the northwest coast of Niue, you can meet several colorful fishes such as angel fish, the nose lituratus, a variety of unusual fishes and various species of surgeon fishes in different colors.
° ° °
° ° °
Contact | About us | Privacy and use of cookies
This site is copyright protected, please contact the author before using any part.