Snorkeling to Limu Pools in Niue
August 19-26, 2011

Limu Pools is one of my favorite places in Niue thanks to blue crystalline waters and protected natural pools, where swimming and snorkeling is not only very funny, but also very safe, even for beginners.
The Limu Pools are located in north-west Niue and the place is easily accessible via a footpath from the main road, leading down to the Pacific Ocean.
Pictures of Niue. The Limu Pools are a series of natural pools, protected from the fury of the Pacific Ocean through an "arm" of rock that breaks the waves. The currents are very low and the place is ideal for swimming, snorkeling and relaxing in perfect safety, either in high or low tide, and even for inexperienced swimmers.
Some of the pools are only accessible via a steep wooden staircase.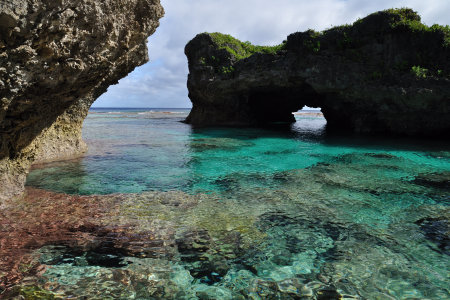 In Limu Pools there are no beaches, but the sea is accessed via stairs or, more simply, jumping from the rocks. Swimming in these pools is very relaxing and enjoyable. The temperature of the water in Niue during our summer (and then the southern winter) is around 25 degrees, although much depends on the sun exposure of the area, currents and meteorological characteristics previous days.
Even with a simple mask and snorkel you can see a good number of live corals growing on submerged rocks and seabed of Niue, together with other invertebrates.
In Niue there isn't the wide variety of colorful fishes that can be found in other tropical paradises, however, snorkeling in Limu Pools remains extremely funny and you can still see many butterfly fish, trigger fish and even some small eel.
Water snakes are very common in Niue and, although they may appear daunting, they are completely harmless.
° ° °
° ° °
Contact | About us | Privacy and use of cookies
This site is copyright protected, please contact the author before using any part.