Other non-succulent plants and flowers of Richtersveld desert in South Africa
From 5 to 9 September 2012

In the Richtersveld desert you will not find only succulent plants, but it hosts also many annual or perennial herbaceous species, normally flowering just before spring, during the short rainy season. The desert in bloom may get very spectacular, especially on more favourable years.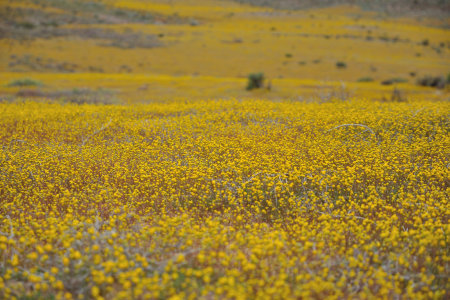 On a cloudy and cold day you may completely forget that you are in one of the driest places of the planet. The Richtersveld desert, along the border line between South Africa and Namibia, during late winter is covered with extensive carpets of flowers.
The flowers are also present in the innermost areas of Richtersveld, although their density is lower. In this photo, some flowers belonging to genus
Dimorphoteca
.
Pictures of Ferraria crispa. The
Ferraria crispa
is a bulbous plant belonging to the family of Iridaceae (like the common Iris) characterized by beautiful flowers of a rather complex structure.
Some small herbaceous flowering plants that can be observed during a botanical tour to Richtersveld and Namaqualand in South Africa.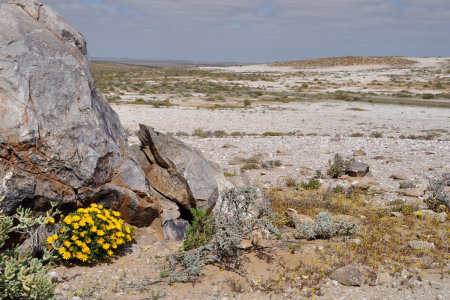 A desert is one of the harshest environments on Earth, but life never gives up, so herbaceous plants still manage to grow and complete its reproductive cycle.
Dimorphoteca flowers.
Photos of lichens. This hill is located in Alexander Bay in South Africa, near the border with Namibia, and is part of a mining concession. Given the massive presence of a mixed orange and green lichens and considering that this is the only hill in the region hosting these lichens, the area was fenced off and declared a protected area. The reasons for which these lichens have chosen to live only in this small space are unknown. In addition, the lichens are the base of a complex ecosystem where many succulent plants grow by taking advantage of the protection offered by the lichens itself.