Lankayan island - snorkeling along the reef
August 23 - 29, 2008

The Lankayan atoll offers a reef with many beautiful diving spots and opportunities for snorkeling. Good snorkeling can be done in the vast lagoon around the beach, additional snorkeling is possible by boat along the external reef. The place is a paradise for macro photography, as there are lots of small and unique creatures.
Another sea anemone with a very dark clown fish.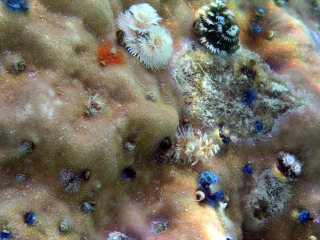 "Christmas tree worms" (Spirobranchus giganteus). They are worms living in a small pipe inserted in an hole digged inside the coral, letting only these colorful "feathers", by which they eat, to come out. Any change in light or pressure causes the "feathers" to retract instantly into the pipe below, before coming out again in less than a minute. Click
HERE
to see a video.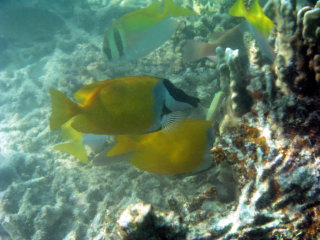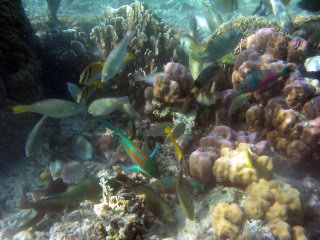 Colorful fishes pictured while snorkeling in Sulu sea around Lankayan island. Diving in Borneo, Malaysia, will give lots of unique encounters, in addition to the "traditional" parrot fishes, butterfly fishes, angelfishes, found also in other areas.
° ° °
° ° °
Malaysia - Borneo - Lankayan home
Contact | About us | Privacy and use of cookies
This site is copyright protected, please contact the author before using any part.