Short Kangerlussuaq day tour waiting for a connecting flight to Ilulissat
June 29, 2011

Between the flight arrival from Copenhagen and the departure to Ilulissat, we spend a few hours participating in a 4x4 tour around Kangerlussuaq, hoping to meet some herd of musk oxen and doing some hike on the tundra. Unfortunately we were able to see only one musk ox in the distance, but the excursion was in any case very interesting due to the beauty of the surrounding landscape.
Air Greenland Airbus A330-200 (Norsaq) parked at the gate in Copenhagen (left) and parked in Kangerlussuaq.
The area around Kangerlussuaq is populated by many muskoxen that were introduced here. A road sign points to pay attention to these massive animals.
It's enough to cover just a few kilometers from Kangerlussuaq airport, to find ourselves surrounded by nature in a pristine landscape made ​​of mountains, dozens of small lakes, tundra, and glaciers flowing directly from the ice cap.
In the distance, a large glacier comes down from the ice cap toward the valley below.
In this time of year (late June), the tundra is full of flowers and it is not uncommon to find buttercups and even a variety of fragrant arctic rosemary flowers.
On the left picture, the airport of Kangerlussuaq in Greenland. In the right picture, the Air Greenland's Airbus A330 from Kangerlussuaq to Copenhagen has just taken off.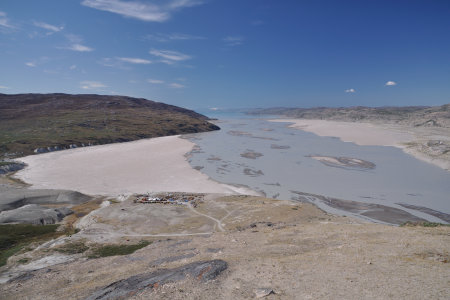 Water from melting ice flows from the mountains along the fjord to the west of Kangerlussuaq. The opaque appearance of the water is due to the presence of an enormous amount of debris produced by the friction of the glacier on the rocks (debris then tend to settle along the banks of the fjord, creating a sort of beach).
° ° °
Contact | About us | Privacy and use of cookies
This site is copyright protected, please contact the author before using any part.