Tour to Ataa summer camp in northern Greenland
July 1st-3rd 2011

The Ataa camp is located in northern Greenland at about five hours sailing from Ilulissat, in a beautiful bay that is the ideal base for excursions to the nearby Eqi Sermia glacier, to do beautiful hikes on the tundra or to paddle in a kayak among the huge icebergs.
After the excursion to Ilimanaq, the navigation from Ilulissat to Ataa continues aboard a small wooden boat built specifically to safely navigate among the many huge icebergs of this part of Greenland.
Photo of Ataa. After a few hours of sailing we reach the Ataa summer camp where we will spend the next two nights in a basic, but very comfortable cabin. Ataa is an ancient village that was abandoned in the early 60 and now you can spend here an holiday in complete contact with the wilderness of the Arctic. From Ataa it's possible to make kayak excursions among the icebergs of the fiord, or sail by boat to the nearby Eqi glacier, go fishing or do easy hikes on the surrounding tundra.
Just a few minutes walk from Ataa cabins, you are immediately surrounded by silence and pure wilderness.
The ancient cemetery of Ataa.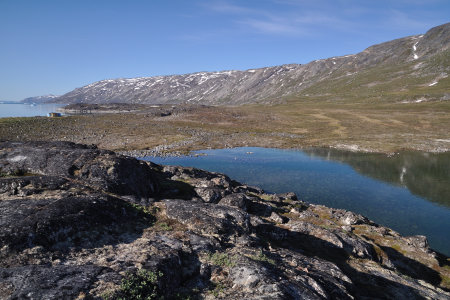 A short trek from Ataa takes us on an hill top, from where we can admire a beautiful landscape all around.
The beautiful view from the top of a hill, just a few minutes hike from Ataa.
The wooden boat typically used to connect Ilulissat to Ataa.
The arctic tundra is particularly rich in flowers as well as many species typical of northern latitudes.
The beautiful lake near the camp Ataa, still partially frozen along the coast.
° ° °
° ° °
Back to Greenland travel guide
Contact | About us | Privacy and use of cookies
This site is copyright protected, please contact the author before using any part.