A long walk over the Tundra north of Arctic Circle in Greenland
August 19th-20th, 2001

Two days trek from Ilulissat, to hike over soft tundra far away from civilization. The tundra is an ecosystem where the tallest plant is no more than 20 centimeters high, a condition imposed by underlaying permafrost and severe weather having only a very short growing season.
August 19th, 1:40pm local time. A small jet boat drops me here, about 10.7 miles (direct) north of Ilulissat (dropoff site onto
satellite image
). From now I will not see any other trace of other humans, until my return (on foot) to Ilulissat the following day. The actual miles to walk are about 15,6 because of the terrain's profile and the presence of many lakes to turn around.
The arctic vegetation (tundra) is an immense garden, full of many different species in vivid colors. Often extensive areas of ground are totally covered by this magic carpet, soft and up to 10 inches high, containing a colorful mix of lichens, mushrooms, mosses, miniature ferns and flowers. Even the rocks are often fully covered by black, white and orange lichens.
At 8:30 pm I reach the hut (cabin / overnight onto
satellite image
) where I will spend the night, alone... The weather got worst, raining a lot and with some snow fakes, as the temperature was close freezing point.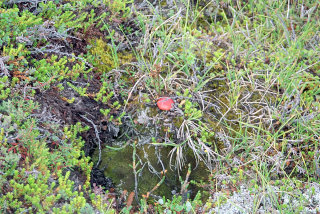 At 8:37am of the following day, I leave the hut and continue to Ilulissat. I carefully make a plan, with an alternate destination in case of problems.I still continue to take a lot of pictures of all these beautiful plants, lichens and mushrooms.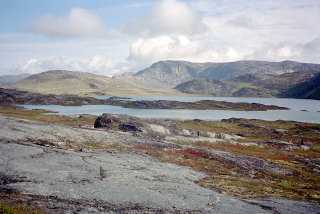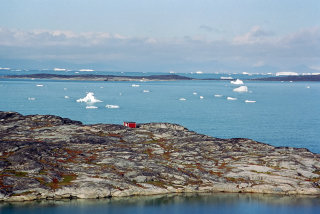 This is the landscape where I walk... crystalline lakes to turn around, streams to cross, icebergs, and hills to climb and descent.
The sensation of solitude and the silence is impressive: there is no picture that can be used to describe it. Still alone in the middle of nothing, I continue my long walk to Ilulissat.
At 4:00pm the runway of Ilulissat Airport (see the
satellite image
) is in sight !.... In sight but still far away... I will reach the passengers' terminal only at 5:25pm, where I will take the SHUTTLE BUS back to my HOTEL !!!
° ° °
° ° °
Back to Greenland travel guide
Contact | About us | Privacy and use of cookies
This site is copyright protected, please contact the author before using any part.