Ilulissat day tour
August 14th-22nd, 2001

Day tours in and around ilulissat, including a boat cruise in the Ice Fjord in front of majestic icebergs and hike to the old settlement in Sermermiut valley where there is also an ancient Eskimo cemetery
Ilulissat seen from the road to the airport.
Ilulissat is a beautiful town with many colorful houses.
Click
HERE
to see the same area from a satellite.
Google Earth
is required.
Just a few miles outside the town, there is the impressive Icefjord, where many huge icebers released from one of the most productive glacier of the world, are searching for a way to the open sea. Some iceberg is big like an hill.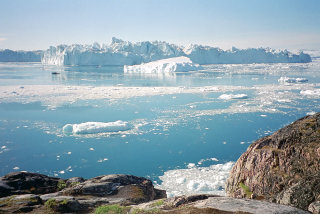 This is the historical site of the old town. Above, a beautiful iceberg on a beach and a view toward Icefjord.
On the left, the remains of the "foundations" of an ancient tent. On the right, animal bones, probably trashed away by the old people, after eating the meat.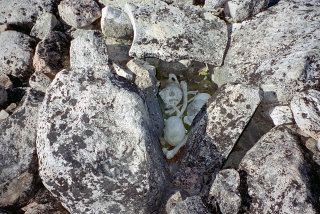 The old Eskimo cemetery, made by a huge pile of stones. Bones and skulls are everywhere between the stones.
° ° °
° ° °
Back to Greenland travel guide
Contact | About us | Privacy and use of cookies
This site is copyright protected, please contact the author before using any part.