Excursions to Streymoy and Eysturoy in the Faroe islands
1st August, 2009

Guided day tour to the northen part of Eysturoy, including a stop in the beautiful Saksun on the island of Streymoy. This is a full day trip by car, starting from Torshavn.
The day tour starts from Torshavn, driving between small communities out of the Faroe Islands' capital.
This bay near Saksun was recentely filled by sand and debris, carried by a violent storm with a kind a tzunami waves. Since then, the bay is inaccesible to ships.
Some of the buildings in Saksun, with the roof covered by grass. Grass field are very green on the Faroe Islands and cover most of the land surface. There are no forests on the Faroe Islands.
Streymoy, as well as the other islands, are dominated by dozens of waterfalls, feeded by the frequent rain.
Going to Eysturoy, the road climbs over the mountains. Eysturoy island is connected to Streymoy by a bridge.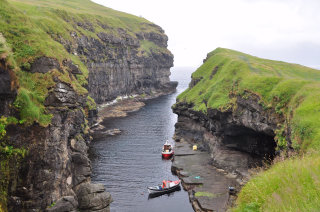 At Gjogv, on Eysturoy island, there is one of the most recent lava field of the Faroe Islands. In fact, the Faroer are of volcanic origin, although there is no active volcano or geothermal activity since very long time now.
The tour continues driving on a mountain road from where there is a view on the town of Funningur.
The last stop is in Eidi and to a viewpoint where strangely shaped rocks are visibile. The tour then goes back to Torshavn.
° ° °
° ° °
Contact | About us | Privacy and use of cookies
This site is copyright protected, please contact the author before using any part.