Excursions from Tasiilaq among whales and glaciers
August 24th, 25th e 26th, 2009

The trip itinerary is altered because rain and heavy sea is coming. So, the planned trek on the icecap, ending into Isortoq village, is canceled for safety reason and the group is transported back to Tasiilaq. From Tasiilaq, shorter excursions are offered while waiting for better weather.
Going back to Tasiilaq by motor boat, we stop near the front of this glacie,r to see some vivid blue ice.
Once back to Tasiilaq, the group divides, with someone visiting Tasiilaq and others doing a whale watch tour.
We see a Greenpeace ship coming to Tasiilaq to get fuel. Officially, the ship seems to be here to do studies on dying glaciers, although it has been reported that they did some disturbing action towards Inuit hunters.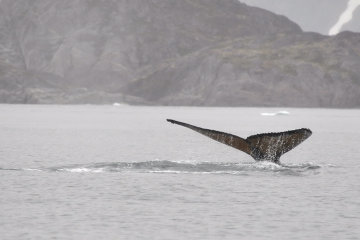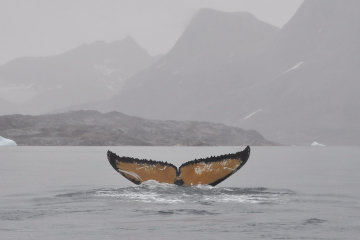 Whales pictures. Some people of the group joins a whale watching tour. The excursion is made using very small motorboats, letting to encounter these animals from very close distance.
° ° °
° ° °
Contact | About us | Privacy and use of cookies
This site is copyright protected, please contact the author before using any part.