Trekking around Tiniteqilaaq discovering the interesting geology of Greenland
August 21st, 2009

An 8 hours trekking on the hills behind the town of Tiniteqiilaq in East Greenland, Ammassalik region. The landscape is dominated by the continental bedrock, up to almost three billions years old, naked and exposed by the elements and the absence of vegetation. Beautiful panoramic views onto Sermilik fjord.
We start to climb on an hill, the remains of an ancient moraine, dominated by rocks varying in size and having nice patterns on the surface. Greenland is a paradise for geologists because the continental bedrock, old up to three billions years, is exposed, as there is no actual soil or vegetation.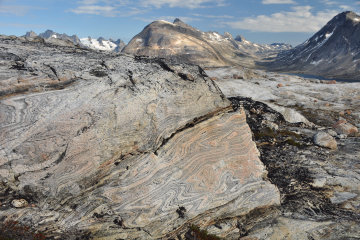 The patterns impressed on these rocks explain the incredible history of the planet and did take millions (perhaps billions) of years to grow.
We reach the top of another higher hill, from where there is a beautiful views over East Greenland mountains, glaciers and fjords.
This enormous glacial erratic rock, having a weight of several tons, is held by three smaller stones. This can be easily explained because all the rocks were incorporated and carried by a glacier, then released as they were, when the glacier did melt.
The twin sky. We now go back to the campsite in Tiniteqiilaq to eat our dinner and overnight.
° ° °
° ° °
Contact | About us | Privacy and use of cookies
This site is copyright protected, please contact the author before using any part.