Hike around Tasiilaq in East Greenland
August 18th, 2009

Today we fly with an Airiceland Fokker-50 aircraft from Reykjavik to Kulusuk, the gateway to East Greenland, from where motorboats driven by Inuit hunters brings us to Tasiilaq, the home base from where all the excursions to East Greenland will leave the next days. In the afternoon we do a relaxing trek around the hills behind Tasiilaq.
We cross the Tasiilaq town to catch a trail to nearby lakes.
In East Greenland there are probably more dogs than humans, as they are very important to hunt and to move during the long arctic winter.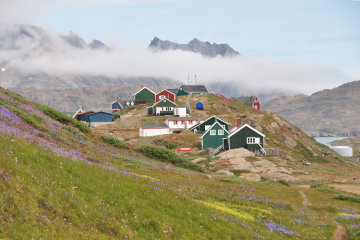 We hike near the cemetery, crossing flower fields which you would not expect to see at this latitude.
Very often, rocks and stones have precise linear patterns which seems hand-made.
° ° °
° ° °
Contact | About us | Privacy and use of cookies
This site is copyright protected, please contact the author before using any part.