Trekking to Apusiajik glacier near Kulusuk
August 27th, 2009

Luckly the weather gets much better, so we can continue out trip to East Greenland, exactly to the Apusiajik glacier, a beautiful tongue of ice not coming straight from Greenland icecap but originated on a small island. The place is near Kulusuk airport, the gateway to East Greenland.
After about one hour by motorboat from Tasiilaq, we reach a small island off the Greenland east coast, dominated by a glacier ending into the sea.
We set up our tented camp over a small peninsula in front of the glacier.
Drift wood probably carried from Siberia by the ocean. The drift wood is used for buildings and handicrafts, as, except for a small area in the south, there are on trees in Greenland.
We do a relaxing trek around the camp, crossing a beautiful glacial valley where lot of arctic cotton grows.
Very green moss contrasting with gray stones.
There is lot of water in this valley, so soft tundra can grow easily.
This area is particularly rich of muscovite, a mineral separating easily into thin sheets, used often as an insulator on electronic components.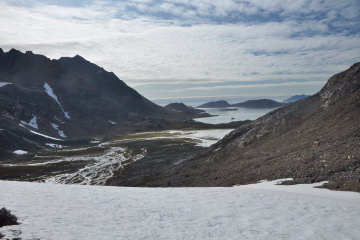 We reach the peak of an hill where there is a beautiful view, before descending on the opposite side along a snow drift.
In the evening we are back at the campsite.
The next day (August 28th, 2009), in about 20 minutes of motorboat from Apusiajik glacier, we reach Kulusuk airport, a small gravel airstrip in the middle of nothing, where an Airiceland's Fokker-50 brings us back to Reykjavik.
° ° °
° ° °
Contact | About us | Privacy and use of cookies
This site is copyright protected, please contact the author before using any part.