Camping onto Greenland's icecap moraine
August 22nd, 2009

The trip, discovering the Ammassalik region in East Greenland, continues with a three hours boat transfer towards a bay filled of icebergs, where majestic glaciers coming from Greenland icecap ends into. Tents are build directly on the immense sandy moraine.
Today we are picked up by fast boats driven by Inuit hunters. The transfer from Tiniteqiilaq to today destination, a bay full of icebergs near the icecap, takes about three hours.We cross the Sermilik fjord and part of open sea, where there are huge icebergs all around.
We finally reach this bay dominated by glaciers coming from Greenland icecap and ending straight into the sea. The landscape is majestic, dominated by immense glacier tongues releasing icebergs into the sea.
The tents are built on a sandy part of the immense moraine, just in front of the glaciers and looking into the iceberg-filled bay. Many icebergs are now trapped on the beach because of the low tide.
We get fresh water breaking an iceberg and melting it. Other good places to get water in Greenland are streams and natural springs.
Small tank vs big tank.
Regardless of the hard environment, the moraine is populated by several different species of flowers. They are pioneers preparing the path to larger trees, which may be grow here after some century. Or, perhaps, the glacier may advance again, "bulldozing" and flattening everything.
"The ice whale" (the small iceberg in the front looks like a whale's tail).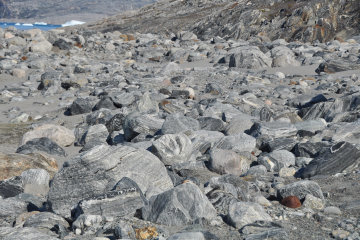 We hike over the moraine, dominated by debris having sizes from a small sand grain, to stones big like cars.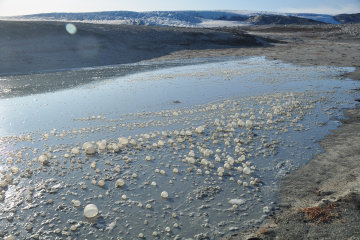 These bubbles are created by bacteria as soon as the high tide returns.
The sun sets behind the icecap.
° ° °
° ° °
Contact | About us | Privacy and use of cookies
This site is copyright protected, please contact the author before using any part.